Post by Admin on Jan 23, 2019 17:56:25 GMT
The Angelus - January 1988
Some Memories of the Child Marcel



Sister Marie Christiane, the Archbishop's sister and Superior of the Carmelite Convent at Quievrain in Belgium, has most graciously provided us with some personal memories of the Archbishop's childhood. We are sure that our readers will be deeply moved by these glimpses into the past which she wrote at the request of Michael Davies. We hope that he will persuade her to write some more.
Marcel has always had an incorruptible sense of justice. While still a child he could not tolerate any deceit whatsoever.
When the weather was fine the five older children would go to a large square of sand at the end of the garden under the old chestnut tree and play croquet. The game would be played in an amicable spirit until the end but the eldest could not bear to lose. If it happened that he was not in the lead he would resort to some little stratagem which would unobtrusively insure that he got his way. Marcel, for his part, was not troubled by losing but could not stand the rules being broken. So you would see them, each going back to the house by a different path accompanied by one of their sisters. Fortunately, the path was long enough for them to overcome their vexation. Once back in the house, aided by the good qualities they both possessed, they would soon settle down to other games.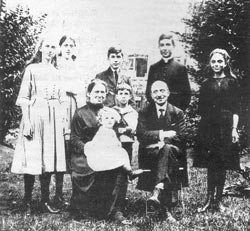 Lefebvre family
***

He was capable of sound insights into the characters of others. In 1920, just after World War I, we spent some time in the country at Bagnoles de Bigorre in Normandy. There, at Falaise, we met Father's business associate for the first time. Marcel said at once that he did not trust him at all whereas Father allowed himself to be taken in by a pretended piety, for all that his mother-in-law warned him to be on his guard, saying the man only went to Mass when Father was there while at other times he did not even go to church on Sundays and was a Freemason. Alas, our Father went bankrupt a few years later. Mother said that she could put more faith in Marcel's judgment than that of Father, who had a tendency to see nothing but good in others until he suffered a disaster.
***

He was very self-controlled. For him, events of the greatest importance took place without any fuss. At home he seemed indispensable. We relied on him so much for all the little repair jobs, conversions, or errands to the town which he could reach quickly on his bicycle (bought with money earned by selling the eggs of some chickens which he looked after). He used his bicycle rather than the car so as not to deprive Father of it. He did all this so well that mother used to say that it seemed that the household could not exist without him. We could not adapt to the idea of his departure for the seminary. To avoid too much emotion he said his goodbyes the evening before leaving. Because he left in the night we asked ourselves whether it could really have happened. My parents, who had gone to the train with him, said afterwards that he left calmly, without a tear—well, our hearts were all so full of emotion that we could scarcely mention it.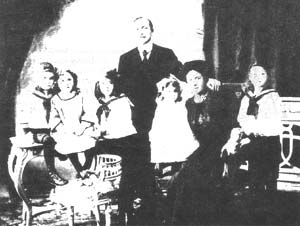 Madame and Monsieur Lefebvre with their first five children,
Marcel, Bernadette, Jeanne, Christiane, René.
While he was a student at the French Seminary in Rome, he was surprised at an unexpected visit from his mother and one of his sisters after he had made arrangements to spend his Easter vacation in the nearby mountains. Despite the exhaustion of a term of studies, he was able at once to arrange his stay to include an audience with the Pope. Mass each day said by a priest friend in the catacombs and the most holy places and on top of all of this, a brief visit to Assisi to make the visit as interesting as possible for his guests
without the least thought of himself
.
Those who accuse him of being proud only prove how little they know him He has never been in the least ambitious. During his teens his one concern was to help the servants in any way he could. Our maid Louise, who stayed with us for twenty years, could never stop telling us that he was a saint such was his eagerness to help. Family gatherings did not appeal to him greatly, he preferred to visit poor families. When we went on a pilgrimage each May we would pass by a farm small hut very well looked after. He used to say that it was there he would like to spend his entire life. Thus you can see the extent of his ambition! But the truth will be known one day when the good Lord wishes it. His nephews have the decorations he received, and when he was awarded citations from various countries he would give the medals away immediately.