Post by Admin on Apr 25, 2019 17:50:16 GMT
Funny How Churches Suddenly Burning in France and Elsewhere in Europe
April 16, 2019
Think what you want about Notre Dame. But churches being burned and otherwise vandalized in Europe (and elsewhere) represents the norm.
As
Newsweek
reported:
France has seen a spate of attacks against Catholic churches since the start of the year, vandalism that has included arson and desecration.

Vandals have smashed statues, knocked down tabernacles, scattered or destroyed the Eucharist and torn down crosses, sparking fears of a rise in anti-Catholic sentiment in the country.

Last Sunday, the historic Church of St. Sulpice in Paris was set on fire just after midday mass on Sunday, Le Parisien reported, although no one was injured. Police are still investigating the attack, which firefighters have confidently attributed to arson.

Built in the 17th century, St. Sulpice houses three works by the Romantic painter Eugene de la Croix, and was used in the movie adaptation of The Da Vinci Code, by Dan Brown.
Below is a tweet showing the fire at the famous church.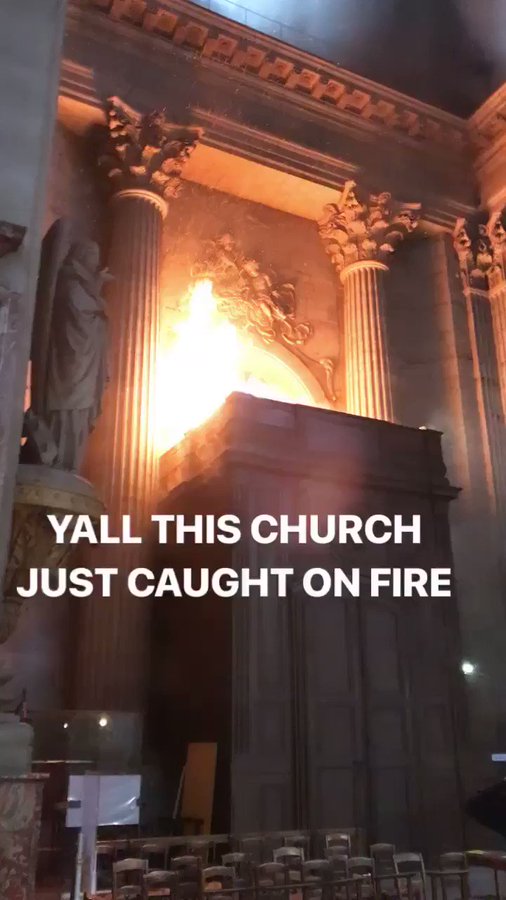 the famous saint sulpice church in paris was lit on fire just last month. the month before that an attack on st. nicholas in northern france, and another fire lit in saint alain cathedral in south-central france.
there seems to be a recurring theme here.pic.twitter.com/0Swua0pHRW

— Pardes Seleh (@pardesseleh) April 15, 2019
Sure, this church just caught fire as a Muslim woman filmed it.
The article continues:

Last month, at the St. Nicholas Catholic Church in Houilles, in north-central France, a statue of the Virgin Mary was found smashed, and the altar cross had been thrown on the ground, according to La Croix International, a Catholic publication.

Also in February, at Saint-Alain Cathedral in Lavaur, in south-central France, an altar cloth was burned and crosses and statues of saints were smashed. The attack prompted Lavaur Mayor Bernard Canyon to say in a statement: "God will forgive. Not me."

And in the southern city of Nimes, near the Spanish border, vandals looted the altar of the church of Notre-Dame des Enfants (Our Lady of the Children) and smeared a cross with human excrement.

Let's take a look at the other Muslim migrant enclave. Germany.
According to
Voice of Europe
, almost 200 churches have been vandalized.
In a rare candid moment, German media reported at least 200 cases of damaged churches in the region of Bavaria alone every year.

In addition, attacks on summit crosses are also increasing in the region's mountains. Crosses on several mountain tops have been toppled and destroyed with axes or saws.

There's a growing anger among the indigenous German population over the attacks. Some people think Islamists are behind it.

But the attacks on churches and summit crosses are not isolated cases; for months, attacks on Christian symbols have been reported from several Bavarian cantons.

There have been reports of desecration from Pentecost, Längental and from the "Prinzkopf" which lies between Sylvensteinstausee and Tyrol.

Some repairs of historic churches can cost tens of thousands of euros. It's an attack on people's faith and communities suspect there is a religious motive behind it, e.g. Muslim migrants might be trying to sow fear in the population.
Funny correlation between church vandalism and number of migrant Muslims. And both in France and Germany.
What about Africa? According to this source, 69 churches have been burned in Africa.
CBN News has obtained exclusive, never-seen-before video of dozens of these angry Muslims attacking, then burning Pastor Musa Issa's church.
"They took pews, Bibles, chairs and sound equipment then set them on fire," Issa, pastor of Bethel Horizon Church in Niamey the capital city, said. "They did this while chanting, 'Allahu Akbar!' I felt so sad. I started to cry."
Notre Dame survived an amazing number of attacks. Bombs by the Luftwaffe and much more. But in 2019 the church burns due to a contractor error?
Wait until we get the real truth about this tragedy. There is a reason security is so high in Paris. I've been over the past two years, and police presence is at an all-time high. Expect that to heighten.
[Red font emphasis - The Catacombs]