Post by Elizabeth on Apr 29, 2019 23:48:14 GMT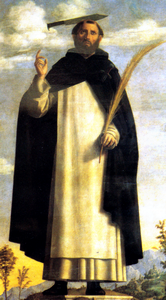 Saint Peter of Verona
Dominican Priest and Martyr
(1206-1252)

In 1205 the glorious martyr Peter was born at Verona of Manichean parents; there he nonetheless attended a Catholic school. One day his Manichean uncle asked what he learnt there. The Creed, answered Peter: I believe in God, Creator of heaven and earth. No arguments could shake his faith, and at the age of sixteen he received the habit from Saint Dominic himself at Bologna.
After his ordination, he preached to the heretics of Lombardy and converted multitudes. Saint Peter was constantly obliged to dispute with heretics, and although he was able to confound them, still the devil took occasion thereby to tempt him one day against faith. Instantly he had recourse to prayer before an image of Our Lady, and heard a voice saying to him the words of Jesus Christ in the Gospel, I have prayed for thee, Peter, that thy faith may not fail; and thou shalt confirm thy brethren in it. (Luke 22:32)
He often conversed with the Saints, and one day the martyred virgins Catherine, Agnes and Cecilia appeared to him and conferred with him. A passing religious, hearing their feminine voices, accused him to their Superior, who without hesitation or questions, exiled him to a convent where no preaching was being done. Saint Peter submitted humbly, but complained in prayer to Jesus crucified that He was abandoning him to his bad reputation. The crucifix spoke: And I, Peter, was I too not innocent? Learn from Me to suffer the greatest sorrows with joy. Eventually his innocence was brought to light; for his part, he had learned in his solitude to love humiliation and confusion.
Again engaged in preaching, miracles accompanied his exhortations. He traveled all over Italy and became famous. Once when preaching to a vast crowd under the burning sun, the heretics defied him to procure shade. He prayed, and a cloud overshadowed the audience.
Every day at the elevation of the Mass he prayed, Grant, Lord, that I may die for Thee, who for me didst die. His prayer was answered. His enemies, confounded by him, sought his life. Two of them attacked him in 1252 on the road to Milan and struck his head with an axe. Saint Peter fell, commended himself to God, dipped his finger in his own blood, and wrote on the ground, I believe in God, Creator of heaven and earth. He was then stabbed to death. The brother religious accompanying him also suffered death. The details of the crime were made known by Saint Peter's murderer, named Carino, who after fleeing from justice confessed his crime, asking for a penance from the Dominican Fathers. He took the habit, and according to their testimony lived the life of a saint and persevered to the end. Miracles at Saint Peter's tomb and elsewhere converted a great many heretics.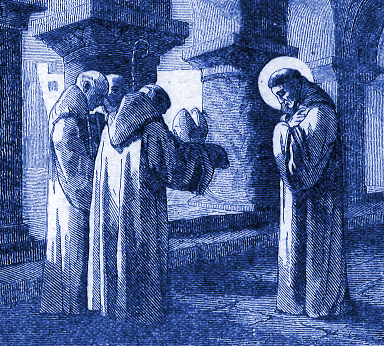 Saint Hugh of Cluny
Abbot of Cluny
Advisor to nine popes
(1024-1109)

Saint Hugh was a prince related to the sovereign house of the dukes of Burgundy, and received his education under the tutelage of his pious mother and by the solicitude of Hugh, Bishop of Auxerre, his great-uncle. From his infancy he was given to prayer and meditation, and his life was remarkably innocent and holy.
One day, hearing an account of the wonderful sanctity of the monks of Cluny under Saint Odilo, he was so moved that he set out at that moment, and going there humbly begged the monastic habit. After a rigid novitiate, he made his profession in 1039, at the age of sixteen years. His extraordinary virtue, especially his admirable humility, obedience, charity, sweetness, prudence, and zeal, gained him the respect of the entire community.
At the death of Saint Odilo in 1049, though Saint Hugh was only twenty-five years old, he succeeded to the government of that great abbey, which he continued for sixty-two years. During those years, the role of Cluny was immense. From it came two very illustrious Popes, Urban II and Pascal II, both disciples of Saint Hugh. The king of Castille, Alphonsus VI, owed his deliverance from an imprisonment to the prayers and intervention of Saint Hugh. A count of Macon entered the monastery with thirty knights and a great many servants, while the countess, his wife, retired to a convent founded by Saint Hugh. Donations of large terrains were made to this Abbey, permitting innumerable foundations. Urban II gave Saint Hugh the right to wear pontifical ornaments for the solemn feast days.
Saint Hugh of Cluny died on the twenty-ninth of April, in 1109, at the age of eighty-five years. He was canonized twelve years after his death by Pope Calixtus II.