Post by Elizabeth on May 22, 2019 1:39:20 GMT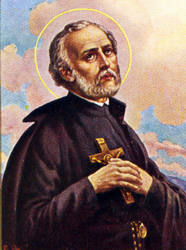 Saint Andrew Bobola
Jesuit, Martyr
(1592-1657)

Saint Andrew Bobola, born in Poland in 1592, was sent while still young to the Jesuit school at Sandomir; his family had always protected the Jesuits and shown itself very liberal towards them. God blessed both the family and the Jesuits in this future martyr, who would bring both of them great glory. He entered that Order in 1611.
As a student he showed great talent, and after studying philosophy for three years taught it in their institutes. In 1622 he was ordained a priest. Three years later he was employed in preaching at the church of Saint Casimir at Wilna; in 1630 he became Superior of the residence of Bobruisk. During a pestilence he spared himself no pains in caring for the sick, without contracting the malady.
Saint Andrew in 1636 resigned his post as Superior to preach for twenty-one years along all the roads of Lithuania, which he was evangelizing. Poland and Lithuania, its neighbor, were being ravaged in those days by the Cossacks, Russians and Tartars, and the Jesuits suffered much from these invaders, who did not like them and their religion. The people were enduring great misery; Father Andrew sustained their courage and helped to combat the invading religious errors.
At Pinsk the Jesuits were offered a refuge by a Catholic prince. When Saint Andrew went there, he was already certain that he was going to martyrdom, as this was a center for the enemies of the Latin Church. Everywhere he was hooted and harassed, and the organized bad treatment continued for several years. Even the children hounded him, instructed by their elders. The holy priest considered it a joy to resemble his Master, for is not that the happiness of every disciple?
One day his enemies decided to put an end to him. They waited for him after he had said Mass, pursued him and attached him to a tree, where they beat him, then led him to their leader with a cord around his neck. The barbaric soldiers, at their chief's orders, tore out one of his eyes, nearly severed his hand with a blow from a saber, then burnt him with torches, telling him to renounce his faith. He was then strangled and the skin of his head and back hacked off. Like the great Canadian martyr John de Brebeuf, his nose and lips were cut off, and he was thrown on a heap of rubble; but two hours later it was still necessary to end the life of the victim for Christ with a blow from a saber. He was buried by the Catholics at the Jesuit College at Pinsk.
Forty-five years later, by a miracle, God revealed the whereabouts of his forgotten tomb to the Jesuit Fathers, who had seen the continuing evils of war ruin many of their works. His tombstone, then buried underground, was found after the Saint appeared twice in vision to the Rector of the College, saying he wished to protect his brethren and the students, and indicating to him the location of his grave. His mutilated body was incorrupt, and a fine fragrance came from the open tomb. Saint Andrew was beatified by Pope Pius IX in 1853, and canonized in April of 1938 by Pope Pius XI.