Post by Elizabeth on Jun 24, 2019 17:00:21 GMT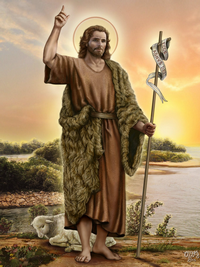 Nativity of Saint John the Baptist
Prophet
(† 30)

The birth of Saint John was foretold by Saint Gabriel, Archangel of the Lord, to his father, Zachary, who was offering incense in the Temple. The son of Zachary was to be the prophesied Messenger, Zachary was told, whose mission would prepare the way for Christ. Before he was born into the world John had already begun to live for the Incarnate God; even in the womb he recognized the presence of Jesus and of Mary, and leaped with joy at the glad coming of the Son of man. Before Christ's public life began, a divine impulse sent Saint John into the desert; there, with locusts for his food and wearing haircloth, in silence and in prayer, he chastened his soul. In his youth he remained hidden, because He for whom he waited was also hidden.
Then, as crowds broke in upon his solitude, he warned them to flee from the wrath to come, and gave them the baptism of penance, while they confessed their sins. At last there stood in the crowd One whom Saint John did not know, until a voice within told him that it was his Lord. He affirmed: I did not know Him, but He who sent me to baptize with water said to me, He upon whom thou wilt see the Spirit descending and abiding, He it is who baptizes with the Holy Spirit.' With the baptism of Saint John, Christ began His voluntary abasement for the sins of His people; and Saint John indeed saw the Holy Ghost descend, under the visible form of a dove, indicating in the humble Jesus of Nazareth the divine Perfection of the peaceable Eternal King and High Priest. Then the Saint's work was done. He had but to point his own disciples to the Lamb, he had only to decrease as Christ increased. He saw all men leave him and go after Christ. I told you, he said, that I am not the Christ. The friend of the Bridegroom rejoices hearing the Bridegroom's voice. This, my joy, is fulfilled.
Saint John was cast into the fortress of Herod on the east coast of the Dead Sea by the tyrant whose crimes he had rebuked; he would remain there until beheaded at the will of a girl and her cruel mother. During this time of imprisonment, some of his disciples visited him. Saint John did not speak to them of himself, but sent them to Christ, that they might witness His miracles and hear His doctrine, proofs of His mission. After Saint John's death, the Eternal Truth pronounced the panegyric of the Saint who had lived and breathed for Him alone: Verily I say unto you, among those born of women there has not risen a greater than John the Baptist.