Post by Elizabeth on Jul 14, 2019 3:17:40 GMT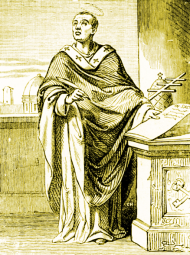 Saint Anacletus was the second successor to Saint Peter, by whom he was converted to the faith. He was also ordained a deacon and consecrated priest by Christ's own first Vicar, as Saint Ignatius of Antioch affirms. He was Greek by origin, born in Athens; in the year 83 he was chosen to succeed Saint Cletus, who had been martyred. The emperor Domitian had begun a violent persecution which increased in fury as time passed; but the faith of the Christians did not diminish, only receiving new force from the blood of the martyrs.
This holy Pontiff omitted no solicitude which could animate the faithful to expose their lives generously for the glory of Jesus Christ. During his nine years of reign, he consecrated six bishops. The last of these bishops was Saint Evaristus, who would succeed him; Saint Anacletus consecrated him the year before his death, foreseeing he could not long escape the fate of all the first Vicars of Christ.
One of his enduring ordinances was the law that for the consecration of a bishop, three bishops must participate; that practice had been established by Saint Paul. He also required that all ordinations be accomplished in public. He built a church in honor of Saint Peter, to whom he owed his conversion, at the site of Saint Peter's burial; the original structure was conserved by Providence amid many tempests. He reserved burial sites for future martyrs in the Christian cemeteries, because multitudes were being condemned under Domitian. He also designated and adorned sites for the interment of future Pontiffs in the Vatican. Saint Anacletus was highly praised by Saint Ignatius of Antioch in a well-known letter. He died on July 13th in the year 96, and was buried in the Vatican.
Certain authors would confound Saint Cletus and Anacletus and make of them one person. Their father's names are known, however, as well as their place of birth — the one in Italy, the other in Greece; moreover, Saint Cletus was consecrated bishop by Saint Peter, saint Anacletus was ordained a priest by him.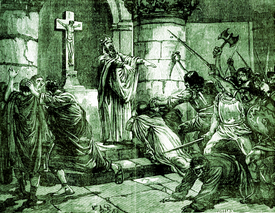 In the year 481, the episcopal see of Carthage had been vacant for twenty-four years, when Huneric, barbarian King of the African Vandals, decided to allow the Catholics to fill it, provided certain conditions be met. The people, impatient to enjoy the consolation which a pastor would bring to the church, chose Eugenius, a citizen of Carthage, eminent for his learning, zeal, piety and prudence. His charities to the distressed had already been very abundant, and in his new office he refused himself the slightest convenience, in order to be able to give all he had to the poor.
His virtue gained him the respect and esteem even of the Arians; but at length envy and blind zeal overcame their better sentiments, and Huneric sent Saint Eugenius an order never to sit on the episcopal throne, preach to the people, or admit into his chapel any Vandals, even if Catholic. The Saint courageously replied that the laws of God commanded him not to shut the door of His church to any who desired to serve Him there. The Vandal king, enraged at this answer, persecuted the Catholics in various ways. Many nuns were so cruelly tortured that they died on the rack. Great numbers of bishops, priests, deacons, and eminent Catholic laymen were banished to a desert filled with scorpions and venomous serpents. Many also were put to death.
During this persecution the people followed their bishops and priests to execution with lighted tapers in their hands. Mothers carried their little infants in their arms and laid them at the feet of the confessors, crying out with tears, On your way to receiving your crowns, to whom do you leave us? Who will baptize our children? Who will impart to us the benefit of penance, and free us from the bonds of sin by the grace of reconciliation and pardon? Who will bury us with solemn prayers at our death? By whom will the divine Sacrifice be offered? By the intervention of Providence, Saint Eugenius was liberated on the very scaffold, but exiled to an uninhabited desert in the province of Tripoli and committed to the guard of Anthony, an inhuman Arian bishop. The latter treated him with the utmost barbarity, shutting him up in a narrow cell and allowing no one to visit him. Before entering that prison, however, he had found a way to write to his diocesans a splendid letter, in which he said: If I return to Carthage, I will see you in this life; if I do not return, I will see you in the other. Pray for us and fast, because fasting and almsgiving have always obtained the mercy of God; but remember above all, that it is written we must not fear those who can kill only the body.
When a new king named Gontamund succeeded to Huneric, he recalled Saint Eugenius to Carthage, opened the Catholic churches, and allowed all the exiled clergy to return. After reigning twelve years, Gontamund died, and his brother Thrasimund was called to the crown. Under that prince Saint Eugenius was again banished. He died in exile in France on July 13, 505, in a monastery which he had built and governed, at Albi, near Toulouse. Saint Gregory of Tours assures that many miracles occurred at his sepulchre.