Post by Elizabeth on Aug 11, 2019 17:17:54 GMT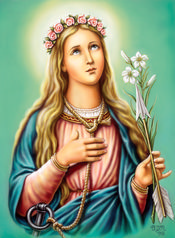 Saint Philomena
Virgin and Martyr († Third century)
"The Wonder Worker"

The tomb of this virgin and martyr, unknown until the first years of the 19th century, was providentially discovered in 1802 in the catacombs. God by many miracles made the discovery of Saint Philomena's body famous, and the cult of the young Saint spread everywhere with an extraordinary rapidity. She received such exceptional homage that she deserves to be placed in the first ranks of the virgin martyrs whom the Church venerates. The Holy Curé of Ars called her his dear little Saint and performed wonders, invoking her.
Certain revelations having the character of authenticity say that Saint Philomena was the daughter of a Greek prince, who accompanied her parents to Rome on a journey, and that her glorious martyrdom occurred there under Diocletian in the third century. The two arrows engraved on her tombstone in opposite directions referred to the efforts of the persecutor to slay her with a volley of arrows, after Angels preserved her from death by drowning; the arrows turned against the archers. Finally she was beheaded, like so many other miraculously protected heroes and heroines of Christ. This opinion, which certain circumstances attending the translation of her relics in 1812 to the city of Mugnano appeared to verify, has prevailed. In that city devotion to her has been extraordinary and remains so to this day; miracles have multiplied both there and elsewhere for those who invoke her.
Other very serious studies maintain that she was a child of the Roman people, immolated in the first century for Jesus Christ, at the age of twelve or thirteen years. An examination of her bones permitted her age to be estimated, and the vial of dried blood in her tomb clearly indicated her martyrdom. The instruments of torture painted on the terra cotta plaque which closed her tomb — an arrow, an anchor, a torch — show us what sort of tortures she bore, all of which are known to us through other martyrdoms of the same early centuries. The inscription: Peace be with you, Philomena, reveals her name.
What is beyond doubt is that this Saint responds unfailingly to the faith of those who invoke her. Invoked everywhere with wonderful success, she was entitled the wonder-worker of the 19th century. She has shown herself to be the protectress, in particular, of small children. A mother whose young son died despite her prayers, placed a picture of the Saint on his corpse, begging that he be returned to her. And the child rose as though from sleep, stood up beside his bed and had no more symptoms of any sickness whatsoever. A little girl who had put out her eye playing with a pair of scissors, which injury was declared irreparable by physicians, had her eye restored when she washed her face in oil taken from the Saint's lamp; and this eye seemed to everyone more vivid and bright than the other.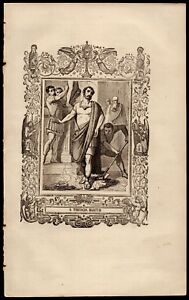 Saint Tiburtius
Martyr
(† 286)

A certain pagan prefect of Rome, by the name of Agrestius Chromatius, saw arrive before his tribunal a holy man named Tranquillinus. The prefect had already condemned a number of Christians to martyrdom, among them the twin brothers, Marcus and Marcellianus; but when Saint Tranquillinus, who was their father, told him how he had recovered from the gout through his baptism, Chromatius listened to him. He himself had the same malady. He sent for a priest, and he too was freed from his infirmity when baptized. He then liberated 400 slaves and retired to a country home, where he sheltered many Christians who feared they could not resist tortures during the persecutions.
Saint Tiburtius, whom the Church honors today, was the son of Chromatius, and was baptized with him. He was later ordained a subdeacon, and one day raised to life a man whom he found on the ground, his body broken by a fall from the upper story of a residence. Under Diocletian, Tiburtius was betrayed to the persecutors by an unfaithful Christian. He courageously confessed his ardent faith, saying, I sacrifice only to one God, the Creator of the world, who reigns over heaven and earth, and my greatest desire is to be immolated and sacrificed myself for this confession. After being condemned to walk on hot coals, which he did without suffering any pain, he was beheaded at a site three miles from Rome. A church was afterward built at this site and named for him.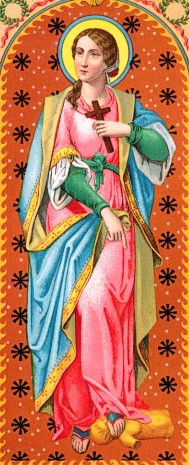 Saint Susanna
Virgin and Martyr
(† 286)
Saint Susanna was nobly born in Rome, the daughter of a certain Gabinius, who after his conversion became a priest; she was also the niece of Pope Saint Caius, her father's brother. This family was also related to the emperor Diocletian. Susanna's father had raised her with great care in the fear of God and love of Jesus Christ, and she had made a private vow of virginity. Diocletian, wishing to obtain the consent of this very beautiful maiden to marry his favorite, Maximian, sent a certain Claudius, another member of her family, to propose the espousals. She refused to consent, making known to her father and Saint Caius her vow, and saying that even if she had not resolved to conserve her chastity, she would not wish to marry a man responsible for the massacre of an infinite number of Christians. The Emperor's messenger was converted by her confession of faith, and became a fervent penitent.
When Diocletian received no answer from his messenger concerning the results of the commission, and then learned of the conversion of Claudius, he was very irritated; then with Claudius he arrested Suzanne, Gabinius her father, and several other Christians. He had Suzanne beaten in her residence, then decapitated secretly. The emperor's wife, Prisca, who was also a Christian in secret, buried her body clandestinely and prayed to her as a holy martyr. Later the house of Gabinius was transformed by Pope Saint Caius into a church; it eventually became a convent for Cistercian nuns. Saint Susanna suffered towards the beginning of Diocletian's reign, about the year 295.