Post by Elizabeth on Aug 19, 2019 18:12:51 GMT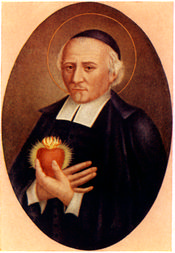 Saint John Eudes
Founder of the Congregation of Jesus and Mary (Eudists) and the Sisters of Our Lady of Charity
(1601-1680)
Saint John Eudes, forerunner of devotion both to the Sacred Heart and the Immaculate Heart of Mary, was born in 1601, some time after France had been torn apart by the revolt of the Huguenots. The rebels were calmed but relegated to western France by King Henry IV, after he himself returned to the Catholic faith. It was in that region that this young Saint spent his childhood, at Argentan in Normandy, and was educated with the Jesuits of Caen. The father of this firstborn of a family of solid and profound virtue, had himself desired the sacerdotal life, and he did not long oppose John's desire to consecrate himself to God as a priest. At eighteen years of age Saint John had already composed a treatise on voluntary abnegation, which his confessor obliged him to publish. He was ordained in Paris as a member of the recently founded French Oratory of Saint Philip Neri; his teachers there were Fathers de Berulle and de Condren, two unsurpassed spiritual directors. The governing theme of his meditation, his preaching and his writings was the importance of the redemptive Incarnation of the Son of God, through the intermediary of His Immaculate Mother. Controversy was not lacking in those days, when the Mother of God had been relegated to a very secondary if not insignificant role by the reformers, and Saint John did not fear controversy. He chose to study both theology and what we would call debate, as essential preparations for his calling. In those days seminaries were scarce; aspiring future priests themselves sought out the instruction they needed.
At Caen a pestilence broke out and soon decimated the populace, often deprived of spiritual assistance. John Eudes offered to care for them in person, and while the scourge lasted slept outdoors in a field, in an old barrel, to protect his brothers in religion from contagion. In 1639 he was named Superior of the Oratory of Caen by Father de Condren, although the Superior General feared that office could interfere with his missions, from which they hoped for great renovation in western France. Nonetheless, from 1638 until 1642, Saint John, with his brethren in religion, was engaged in preaching missions in the dioceses of Bayeux and Lisieux, where the bishops encouraged him and soon were praising him highly. The fruits of these missions were rich and long-lived. Father Eudes was a follower of Saint Vincent de Paul in his ardent desire to evangelize the poor folk, so long neglected, and it was to the people that the preaching of the Oratorian missionaries was addressed. Their missions lasted for several weeks. Otherwise, said Saint John, we put a bandage on the wound, but do not heal it. Processions, hymns, little religious plays, special conferences for specific groups, organization of leagues against duels and blasphemy, and visits to the sick occupied the missionaries' very full days.
Saint John Eudes left the Oratory, a Society of priests which he loved sincerely, like other founders who have been in a similar position, because he was called by God to break new ground in establishing a group of priests without religious vows, destined to occupy posts in the new seminaries of France. The Council of Trent had commanded these establishments everywhere, ordaining that priests be formed to head parishes and to establish in each of them a school. Already in 1658 Saint John himself had founded four seminaries in Normandy — at Caen, Coutances, Lisieux and Rouen. Before the Revolution in France, the Eudists had accepted the responsibility for sixteen seminaries or minor seminaries. This required a foundation in depth in theology and all pastoral duties. Some of his former brethren turned against him when he left them, and he met obstacles also when founding in Caen a Congregation of women to raise up poor girls led astray by ignorance or need. The Sisters of Our Lady of Charity founded by Saint John, parent body of the Good Shepherd nuns, have done an immense good in many countries. The Congregation of Jesus and Mary has sent missionary priests to several countries, all over the world. Saint John Eudes, who died in 1680, was beatified in 1909 by Saint Pius X, and canonized by Pope Pius XI in 1925.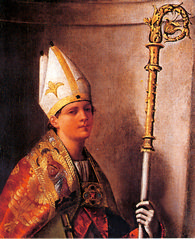 Saint Louis
Bishop of Toulouse
(1274-1297)
This Saint was the great-nephew of Saint Louis, King of France, and through his mother, of Saint Elizabeth of Hungary. He was born at Brignoles in Provence, in 1274. From his childhood he made it his earnest study to do nothing which was not directed to the service of God, showing no interest in games and diversions. His walks usually led him to some church or monastery, where he delighted to hear the servants of God discourse on mortification or the most perfect practices of piety. His modesty and recollection in church inspired with devotion all who saw him. When he was only seven years old his mother often found him lying in the night on a mat he spread on the floor near his bed, because he found his bed too soft.
In 1284 the father of Saint Louis, Charles II, was taken prisoner in a sea battle by the King of Aragon. He was released on condition he send into Aragon as hostages, fifty gentlemen and three of his sons. One of these hostages was our Saint. Confined as a prisoner for seven years, he was subjected to ill treatment which never lessened his patience. Louis was finally set at liberty by a treaty concluded between the King of Naples, his father, and James II, King of Aragon. Both courts desired that Louis, then about 18 years old, marry the princess of Majorca, King James' sister. The Saint's resolution to dedicate himself to God was inflexible, however, and he resigned his right to the crown of Naples, begging his father to confer it on his younger brother, Robert.
He had made a vow during a grave illness to join the Friar Minors if cured; this vow was the cause of his recovery. The opposition of his family obliged the superiors of the Friar Minors to refuse for some time to admit him into their body, however, and he therefore went to Naples to prepare for Holy Orders, with his father's permission. Boniface VIII gave him a dispensation to receive priestly orders in the twenty-third year of his age, and afterward sent him a dispensation for the episcopal character also, together with his nomination to the archbishopric of Toulouse, and a severe injunction, in virtue of holy obedience, to accept the same.
Nonetheless, Saint Louis made his religious profession first amid the Friar Minors on Christmas eve of 1296, to fulfill his vow, then received the episcopal consecration the following February. He traveled to his bishopric as a poor religious, but was received at Toulouse with the veneration due to a Saint and the magnificence befitting a prince. His modesty, mildness, and devotion inspired a love of piety in all who beheld him. It was his first concern to provide for the relief of the indigent, and his first visits were made to the hospitals and the poor. In his apostolic labors, he abated none of his austerities and preached frequently. Being obliged to go into Provence for certain very urgent ecclesiastical affairs, he fell ill not far from Marseille. Recognizing that his end was at hand, with tears he received the Viaticum on his knees, and in his last moments ceased not to repeat the Hail Mary. He died August 19, 1297, at the age of twenty-three.