Post by Elizabeth on Aug 30, 2019 23:49:14 GMT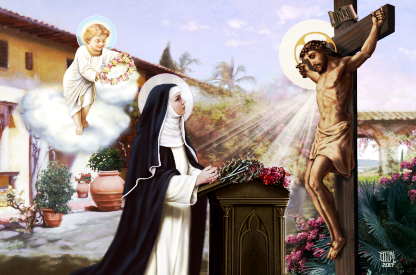 Saint Rose of Lima
Virgin

(1586-1617)
This lovely flower of sanctity, the first canonized Saint of the New World, was born at Lima, Peru, in 1586. She was christened Isabel, but the beauty of her infant face earned for her the title of Rose, which she thereafter bore. As a child still in the cradle, her silence during a painful surgical operation seemed to foretell the thirst for suffering which would consume her heart.
At an early age she engaged herself as a servant to support her impoverished parents, then worked day and night. In spite of hardships and austerities her beauty ripened with increasing age, and she was openly much admired. Fearing vanity would enter her heart, she cut off her hair, blistered her face with pepper and her hands with lime. She never left the interior of her parents' house in Canta, for four years, not even to walk in an inviting garden just beyond its walls. She finally obtained her parents' permission to be enrolled in the Third Order of Saint Dominic; from her childhood she had taken Saint Catherine of Siena as her model, and she then redoubled her penance. The Blessed Sacrament seemed virtually her only food. Her love for it was intense. Her fasting was near miraculous; during Lent in particular, she denied herself her former single piece of bread each day, to consume only a few orange seeds. Her disciplines were of an almost incredible severity, and her hair shirt reached from her shoulders to her wrists and knees; not satisfied with its rudeness, she armed it with iron nails.
The cell of Saint Rose was a garden hut, her couch a box of broken tiles. Concealed by her veil, a silver crown armed with ninety sharp points encircled her head. More than once, when she shuddered at the prospect of a night of torture, a voice said, My cross was yet more painful. The demon tormented her for fifteen years with insupportable temptations; but God sustained His spouse against them, though she would gladly have died rather than live any longer in their clutches. When a Dutch fleet prepared to attack the city of Lima, Rose took her place before the tabernacle, and wept because she felt unworthy to die in its defense, as she hoped she might; the enemy weighed anchor soon afterwards and departed without attempting a siege. All of Saint Rose's sufferings were offered for the conversion of sinners, and the thought of the multitudes in hell was ever before her soul. She died in 1617, at the age of thirty-one.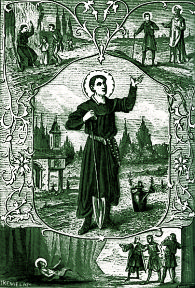 Saint Fiaker
Prince of Scotland and Anchorite
(† 670)
Saint Fiaker was the eldest son of Eugene IV, king of Scotland, born in the early sixth century heir to the throne of Scotland. He was educated under the care of a bishop of eminent sanctity, Conan, Bishop of Soder or the Western Islands.
Considering all worldly advantages as dross, the young prince, accompanied by his sister, left country and friends when in the flower of his age, and sailed to France. The prince intended to seek a solitude to which they might retire and devote themselves to God, unknown to the rest of the world. Divine Providence conducted them to Saint Faro, Bishop of Meaux, eminent for his sanctity. When Saint Fiaker addressed himself to him, the prelate, charmed with the marks of extraordinary virtue and abilities which he discerned in this stranger, gave him a solitary dwelling in a forest called Breuil, two leagues from Meaux. He placed the princess Sira in the Faremoutier monastery for women, of which his own sister was Abbess, and in that convent the young Christian found the enduring peace of Christ.
The holy anchorite Fiaker cleared the ground of trees and briers, made himself a cell and cultivated a small garden. He built an oratory in honor of the Blessed Virgin, where he spent the greater part of the days and nights in devout prayer, laboring also with his own hands for his subsistence. The life he led was very austere, and only necessity or charity ever interrupted his exercises of prayer and heavenly contemplation.
Many resorted to him for advice, and the poor sought relief at his door. Saint Chillen, or Kilian, an Irishman of high birth, on his return from Rome visited Saint Fiaker, who was his kinsman. After spending some time under his discipline, this other budding Saint was directed by Fiaker's advice and with the authority of the bishops, to preach in the nearby dioceses as well as in that of Saint Faro. This commission he executed with admirable sanctity and fruit, and his relics were later placed in the same coffer as those of his eminent relative, the saintly hermit. Saint Fiaker died in the year 670, on the 30th of August; he is the patron of gardeners.