Post by Elizabeth on Sept 15, 2019 3:46:32 GMT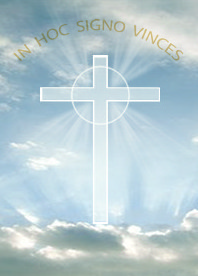 The Exaltation of the Holy Cross
of Our Lord Jesus Christ
(627)

In the year 627, during the reign of the emperor Heraclius I of Constantinople, the Persians conquered the city of Jerusalem and removed from its venerable Sanctuary the major part of the true Cross of Our Lord, which Saint Helen, mother of the emperor Constantine, had left there after discovering it on Calvary. The emperor resolved to win back by combat this precious object, the new Ark of the Covenant for the new people of God. Before he left Constantinople with his army, Heraclius went to the church wearing black in the spirit of penance; he prostrated himself before the altar and begged God to sustain his courage. And on leaving he took with him a miraculous image of the Saviour, determined to combat with it even unto death.
Heaven visibly assisted the valiant emperor, for his army won victory after victory. One of the conditions of the peace treaty was the return of the Cross of Our Lord, in the same condition as when it was removed. Heraclius on his return was received in Constantinople by the acclamations of the people; with olive branches and torches, they went out to meet him. And the true Cross was honored, on this occasion, in a magnificent triumph.
The emperor wished to give thanks to God by going in person to Jerusalem to return this sacred wood, which had been in the power of the pagans for fourteen years. When he reached the Holy City, he placed the precious relic on his shoulders, but when he came to the gate leading out to Calvary, it became impossible for him to go forward. He was greatly astonished, and those in attendance were stupefied. Take care, O Emperor! said the Patriarch Zachary to him. Certainly the imperial clothing you are wearing does not sufficiently resemble the poor and humiliated condition of Jesus carrying His cross. Heraclius was touched on hearing this; he removed his shoes and his imperial robes, adorned with gold and jewels. Wearing a poor man's tunic, he was able to go up to Calvary and depose there his glorious burden. To give greater brilliance to this triumphant march, God permitted several miracles to occur by the power of the Cross of Christ. A dead man returned to life, four paralytics were cured; ten lepers recovered their health and fifteen blind persons their sight; many possessed persons were delivered from the evil spirit, and a large number of sick persons were completely cured.
In those days the greatest power of the Catholic world was the Empire of the East, and that bulwark against the eastern pagans was verging toward its ruin, before God put forth His hand to save it in this way. The re-establishment of the Cross at Jerusalem, by means of the emperor's Christian valor, was a sure pledge of its protection. It was after these events that the feast of the Exaltation of the Holy Cross was instituted, to perpetuate their memory in the Church.