Post by Elizabeth on Sept 18, 2019 2:45:37 GMT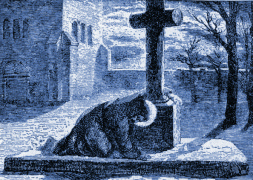 Saint Lambert
Bishop of Maestricht, Martyr
(640-705)

Saint Lambert, born about 640, was a native of Maestricht, the son of illustrious Christians; his noble father entrusted his education to the holy Bishop Saint Theodard. As a young man he wrought miracles, one day bringing forth a spring to quench the thirst of some workers building a church, and in this way he became known to all the city. When Saint Theodard was assassinated in the defense of the possessions of the church, Lambert was chosen by the people, at the age of only 21 years, to be his successor. He taught his flock the maxims of the Gospel and reproved vice with an apostolic liberty. His soul was perfectly nourished by grace and was totally dead to all earthly pleasures; his hands were open to distribute alms, his arms to receive those who were suffering, and his heart to take pity on the afflicted.
A revolution broke out a few years later and overturned the kingdom of Austrasia; our Saint was banished from his see because of his devotion to the former sovereign. He retired to the monastery of Stavelo, where the observance was very regular, and there he obeyed the rule as strictly as the youngest novice.
One incident will suffice to show with how perfect a sacrifice of himself he devoted his heart to serving God. As he was rising one night in winter to attend to his private devotions, he happened to let fall a wooden sandal. The Abbot, without asking who had caused the noise, gave orders that the offender go and pray before the cross which stood before the church door. Lambert, without any answer, went out into the court as he was, barefooted and covered only with his hair shirt; and in this condition he prayed for several hours, forgotten as he knelt before the cross. Finally, when they noticed the holy bishop there, covered with snow, the Abbot and the monks fell to their knees, and asked his pardon. God forgive you, he said, for thinking you stand in need of pardon for this action. As for myself, is it not in cold and nakedness that, according to Saint Paul, I am to discipline my flesh and serve God?
After seven years in the monastery he was recalled to his see. Although Saint Lambert had been personally enriched in the peace of his holy retirement, he had wept and continued to weep at seeing the majority of the churches of France laid waste. His zeal in denouncing the manifold and notorious disorders existing in his diocese, led to his assassination, brought about like that of Saint John the Baptist, by an unfortunate woman. She had led the king to repudiate his wife and enter publicly upon a scandalous life. Saint Lambert was slain by the sword in his house, on the 17th of December, 705.
St. Hildegard of Bingen
Virgin, Abbess, Doctor of the Church
(1098-1179)
St. Hildegard was a German nun popularly known for her ability to foretell the future, her visions and her letters of rebuke or warning to many, including popes. She is also now known for the beautiful music that she composed. Born in Bokelheim, from the time she was eight she lived in the care of Bl. Jutta, a hermit. Before Hildegard joined this community and became prioress upon Jutta's death in 1136. From an early age, Hildegard was favored with visions. After the archbishop of Mainz and theologians reviewed them and discerned their divine origin, Hildegard was given a secretary to whom she dictated her visions. These visions received the approbation of a bishop appointed by the pope. Hildegard was consulted by huge numbers of persons, inclucing popes and emperors. Yet opinion was divided regarding her and her visions. Hildegard was never formally canonized, though she is listed in the Roman Martyrology as a saint. She is known as the "Sibyl of the Rhine." St. Hildegard was declared a Doctor of the Church by Pope Benedict XVI in 2012.