Post by Admin on Oct 14, 2019 12:42:56 GMT
The following letter was sent to me by email.
It is a copy of Fr. Timohty Sick's recent letter to parents and benefactors of La Salette Academy, an SSPX school in Illinois. Fr. Sick is the headmaster.
[Click to enlarge image.]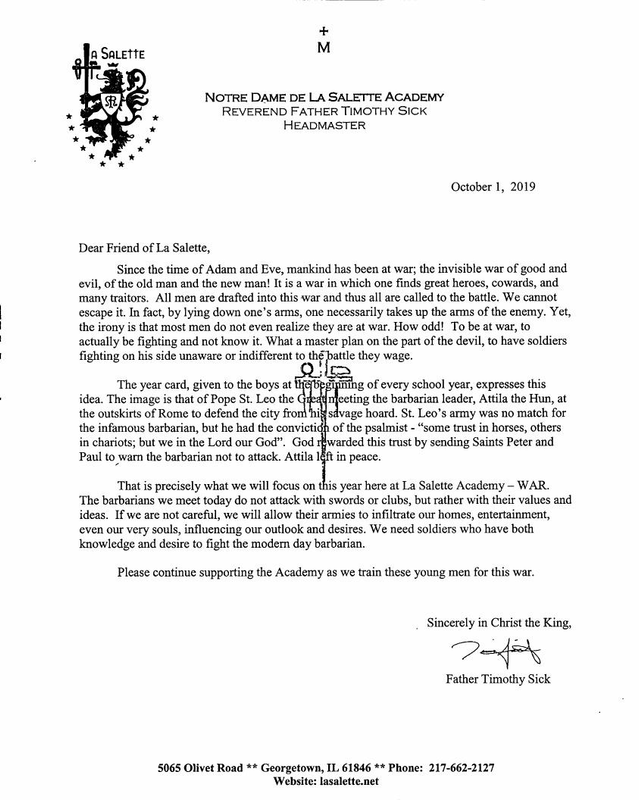 A few comments.
Does Fr. Sick not realize the hypocrisy of what he writes? In the very first paragraph, he writes:

"All men are drafted into this war and thus all are called to battle. We cannot escape it. In fact, by lying down one's arms, one necessarily takes up the arms of the enemy. Yet, the irony is that most men do not realize they are at war. ... What a master plan on the part of the devil, to have soldiers fighting on his side unaware or indifferent to the battle they wage."
Blatant hypocrisy!
Has not the SSPX laid down it's arms against modernist Rome? Is it not hypocritical to praise oneself, to shout out what a warrior the SSPX is (that it trains other warriors), when in reality we barely hear a whimper from them anymore opposing the near continual onslaught against God and His Church coming from an apostate Rome?

A recent example, it took the SSPX several days '
to speak out'
against the blasphemous ceremonies that were a precursor to the Amazon Synod, i.e. pagan worship in the very Vatican gardens. And yet read this almost polite protest, that nowhere reflects the gravity of what was done:
From day one, there were appalling celebrations in St. Peter's Basilica and in the Vatican Gardens. Several colorful Indians from the Amazon were exhibited, duly painted and feathered.
Or perhaps these words about the opening ceremonies:
The synod began with a lamentable spectacle that was more akin to a bad all-night Scout campfire—in broad daylight and without a fire.
The more conservative Novus Ordo websites have done a much better job decrying the blasphemies and errors of all things associated with this Synod than the SSPX has come close to. The SSPX themselves have provided an example of how when "one lays down their arms, one necessarily take up the arms of the enemy?" Do they truly not see this?

And this is only the most recent illustration of the SSPX's abandonment of the fight against the errors of Vatican II and Modernist Rome. There are many other examples, dating back decades now, that have shown the SSPX's betrayal [see
here
].
Fr. Sick continues:
"The barbarians we meet today do not attack with swords or clubs, but rather with their values and ideas. If we are not careful, we will allow their armies to infiltrate our homes, entertainment, even our very souls, influencing our outlook and desires. We need soldiers who have both knowledge and desire to fight the modern day barbarian."
Dear friends, notice Fr. Sick never sheds light on who these modern day "barbarians" are? He simply labels them "barbarians," a term all implicitly acknowledge as something bad. But he never points out, as a true leader should, exactly who or what all these soldierly efforts should be directed against. Is this a good leader? Sadly, no. We all know that a good general clearly points out the enemy!
The SSPX no longer makes it clear that these efforts are directed against the errors of Vatican II, of a modern and apostate Rome, against a schismatic Conciliar Church. Indeed, the absence of clear direction from Fr. Sick makes this very point.

So whose or what "values and ideas" are being fought against? We really are at a loss to know. Clearly it's not a doctrinal fight. Perhaps the SSPX has switched to a focus on moral "values and ideas?" But here too we find changes in direction, we find a decline in morality and traditional Catholic values.

For example, the
SSPX recently had a Novus Ordo priest as a speaker
who encourages those fighting impurity not to flee from that temptation, but rather to
"... invite our Lord into our temptation and into our thoughts in the present moment; to say, "Jesus, I want to look at pornography right now", or, "Jesus, I'm having an impure thought right now. You're welcome into my imagination. You're welcome to watch these thoughts with me."
This is a flat contradiction to what the Church and the Saints have always taught. A simple illustration from St. Alphonsus di Liguori teaches us:
…as soon as a temptation against chastity presents itself, the remedy is to turn instantly to God for help, and to repeat several times the most holy names of Jesus and Mary, which have a special virtue to banish bad thoughts of that kind. I have said immediately, without listening to, or beginning to argue with the temptation. When a bad thought occurs in the mind, it is necessary to shake it off instantly, as you would a spark that flies from the fire, and instantly to invoke aid from Jesus and Mary. (Sermon "On the Vice of Impurity")
Conversely, for the women, we all witness the ever-shortening hemline in the skirts of the girls and women of the SSPX for several years now. I have seen, in at least two SSPX chapels in recent months, some young SSPX women in miniskirts, accompanied by high heels which have the effect of exaggerating the lack of a decent hemline. This is not in just one chapel either. It is being reported in both many American and European SSPX chapels.

So, again, we must ask, what "values and ideas" are to be fought against? What standard of "values and ideas" are being promoted. Sad to say, the answers to these questions are no longer obvious. It is no longer the Reign of Christ the King. That is apparent by the painful silence and/or lackluster attempt to condemn what a traditional Catholic group should be condemning. In this, they join other indult Conciliar communities, who have also demonstrated a lack of reproof for the blasphemous pagan rituals in the Vatican garden on October 5th.

The SSPX, that once shining beacon of faithful traditional Catholicism, has willfully dimmed the fire of the love of God that once burned in it's heart. That fire that used to pierce the darkness of the errors and heresies of the new religion of Vatican II and it's Conciliar Church and shine a light onto the True Catholic Faith for the world to see.

Sadly, with the passing of Archbishop Lefebvre, that fire went out of many SSPX hearts. Instead, like Judas, they began to seek friendship and recognition from those who are seeking to crucify Our Lord again, in His bride the Church. How painful to see that Vatican II has succeeded in overwhelming and overcoming yet another traditional Catholic group! But is this not too our Holy Church following in the footsteps of Her Founder to Calvary? Is Holy Mother Church too not being abandoned by all who should defend Her honor?

Our Lady of Fatima, Our Lady of the Rosary, pray for us!