Post by Hildegard on Feb 25, 2020 2:46:14 GMT
DEVOTION TO THE HOLY FACE OF JESUS
This ancient and venerable Catholic practice is rooted in the representation of the face of Christ said to have been left on the towel or veil used by a holy woman thought to be named, Veronica. An Archconfraternity of the Holy Face was established in Tours, France, 1884; its members make reparation for the blasphemies hurled at Christ. Since St. Therese's devotion to the Holy Face has become known, this devotion has spread worldwide.
In addition, a devout and pious nun, Sr. Pierina, who died in 1945, was given many visions through Our Blessed Lady who appeared to her, as did Our Lord Jesus. They urged her to make reparation for the many insults Jesus suffered in His Passion, such as to be slapped, spit upon and kissed by Judas, as well as now being dishonored in many ways in the Blessed Sacrament by neglect, sacrileges, and profanations.
She was given a medal which on one side bore a replica of the Holy Shroud and the inscription: "Illumina, Domine, vultum tuum super nos." [O Lord, the light of Thy countenance shine upon us.] On the reverse side was a radiant host with the words: "Mane nobiscum, Domine." [Stay with us, O Lord.] After great difficulties, Sr. Pierina obtained permission to have the medal cast. Even the expenses for the casting were miraculously met when she found on her desk an envelope with the exact amount of the bill-----11,200 lire.
The Evil Spirit showed his chagrin and rage at the medals by flinging them down and burning the pictures of the Sacred Face, and beating the nun savagely.
In 1940, when the Second World War had the world in turmoil, Italy saw a wide distribution of the medal: soldiers, sailors and pilots were provided with the replica of the Holy Face since the medal was already famous for its miracles and countless spiritual and temporal favors.
In Our Blessed Mother's own word, the medal is a weapon for defense, a shield for courage, a token of love and mercy and which her Divine Son wished to give the world in these troubled days of lust and hatred for God and His Church. Devilish snares have been set to rob the hearts of men of their faith while evil spreads the world over. Genuine apostles are few. A Divine remedy to all these evils will be the Adorable Face of her Son, Jesus.
Whoever wears this medal and, if possible, pays a visit to the Blessed Sacrament on Tuesday in a spirit of reparation for the outrages received by the Holy Face of Our Blessed Savior during His Passion and those bestowed on Him every day in the Sacrament of His Divine Love, will be granted the gift of a strong Faith and the grace to fly to its defense, conquering if need be, all exterior and interior difficulties. Moreover, they are promised a happy death with special assistance of Christ Himself.
The very first medal of the Holy Face was offered to our glorious Pontiff, Pius XII; then the whole world became acquainted with this special object of holy favors and devotion. No soldier taken as a prisoner of war, and who wore the medal was ever executed. Our Blessed Lord requested that a special feast be instituted to honor His Holy Face on Shrove Tuesday. Pope St. Pius XII obeyed and had this day set aside to honor the Holy Face in 1958.
PRAYER OF ST. THERESA OF JESUS [LISIEUX]
TO THE HOLY FACE


O Jesus, Who in Thy bitter Passion didst become "the most abject of men, a man of sorrows," I venerate Thy Sacred Face whereon there once did shine the beauty and sweetness of the Godhead; but now it has become for me as if it were the face of a leper! Nevertheless, under those disfigured features, I recognize Thy infinite Love and I am consumed with with the desire to love Thee and make Thee loved by all men. The tears which well abundantly in Thy sacred eyes appear to me as so many precious pearls that I love to gather up, in order to purchase the souls of poor sinners by means of their infinite value.

O Jesus, Whose adorable Face ravishes my heart, I implore Thee to fix deep within me Thy Divine Image and to set me on fire with Thy Love, that I may be found worthy to come to the contemplation of Thy glorious Face in Heaven. Amen.


HOLY FACE PRAYER FOR SINNERS

by St. Therese of Lisieux
ETERNAL FATHER, since Thou hast given me for my inheritance the Adorable Face of Thy Divine Son, I offer that face to Thee and I beg Thee, in exchange for this coin of infinite value, to forget the ingratitude of souls dedicated to Thee and to pardon all poor sinners.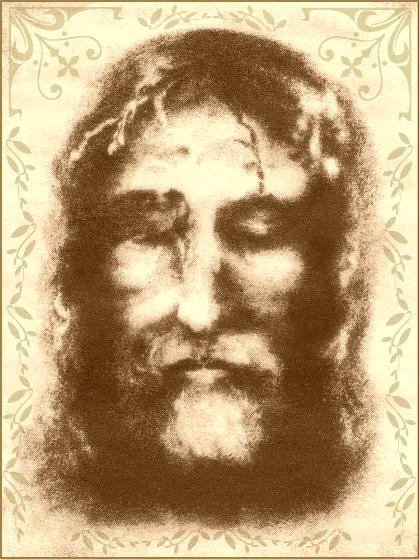 PRAYER TO THE SACRED HEAD OF OUR LORD, SEAT OF WISDOM


WISDOM of the Sacred Head, guide me in all my ways.
O Love of the Sacred, consume me with Thy fire.
Three Glorias, in honor of the Divine Will, Memory and Understanding.

O Seat of Divine Wisdom, and guiding Power, which governs all the motions and love of the Sacred Heart, may all minds know Thee,

all hearts love Thee, and all tongues praise Thee, now and for ever more.

Imprimatur: Jacobus Canonicus Carr, Pro Epo Liverpolitano

PRAYERS OF REPARATION TO THE HOLY FACE OF JESUS

PRAYER

O Blessed Face of my kind Savior, by the tender love and piercing sorrow of Our Lady as she beheld Thee in Thy cruel Passion, grant us to share in

this intense sorrow and love so as to fulfill the Holy Will of God to the utmost of our ability. Amen.

-----Mother Maria-Pierina

CROWN OF THORNS PRAYERDEAR LORD, I am grieved when I consider Thy sad condition when Thou wore the Crown of Thorns upon Thy hold Head. I desire to withdraw the thorns by offering to the Eternal Father the merits of Thy Wounds for the salvation of sinners. I wish to unite my actions to the merits of Thy Most Holy Crown, so that they may gain many merits, as Thou hast promised. Amen.

-----Prayer based on a revelation by Our Lord to Sr. Chambon


OFFERING OF THE HOLY FACE TO APPEASE GOD'S
JUSTICE AND DRAW DOWN MERCY UPON US

ETERNAL Father, turn away Thine angry gaze from all guilty people whose faces have become unsightly in Thy eyes. Look instead upon the face of Thy Beloved Son, for this is the Face of Him in Whom Thou art well pleased. We now offer Thee this Holy face, covered with shame and disfigured by bloody bruises, in reparation for the crimes of our age, in order to appease Thee anger, justly provoked against us. Because Thy Divine Son, our Redeemer, has taken upon His head all the sins of His people that they might be spared, we now beg of tTee, Eternal Father, to grant us mercy. Amen.

-----Archconfraternity of the Holy Face

Source:
PRAYERS AND HEAVENLY PROMISES, Compiled from Approved Sources by Joan Carroll Cruz with Imprimatur
from Archbishop Francis Shulte, New Orleans, 1989.