Post by Hildegard on Mar 1, 2020 17:33:07 GMT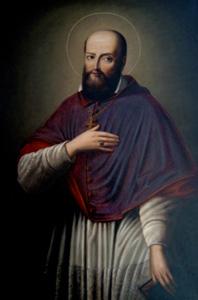 Teachings and Examples from the Life of the Saintby Salesiana Publishers

Every Day with Saint Francis de Sales

THE TITLE:
Every Day with Saint Francis de Sales (changed from the Italian Buon Giorno . . . Teachings and Examples from the Life of Saint Francis de Sales). This replaced
the previous title and subtitle: Saint Francis de Sales in Teachings and Example . . . A sacred Diary Extracted from His Life and Works by the Vistandines of Rome. This title was
taken from the first edition (Ferrari, Rome, 1953).
CONTENT AND STRUCTURE:
Every page contains a thought from the works of Saint Francis de Sales and a brief account of some event of his life which took place on that date.
The first taken from the Oeuvres d'Annecy with an indication of volume and page and then the work form which the passage has been taken (e.g. Sermons, Treatises, Letters). As
far as the two major woks are concerned, the book or part and chapter have been added, for further clarification. This will allow the reader to refer to the passages for personal
consultation or greater understanding. The anecdotes have been taken from the work Anne Sainte, with an indication of both volume and page. Because of the brevity of the
selections chosen, we have added a maxim taken froma book by an anonymous author, Massime di S. Francesco di Sales (Salesian Press, Milan, 1929).
TEXT AND FORMAT:
The Italian revision of the book made necessary the rereading of the selections chosen and a comparison with the original French. Every effort has been made
to keep the gentle tone of Saint Francis de Sales.
ABBREVIATIONS AND REFERENCES:
A.S. Annee Sainte des Religieuse de la Visitation Sainte Marie, (12 vol. ed.)
D.S. Diario Sacre extracted from his life and works, compiled by the Visitandines of Rome. (Ed. Ferrari, Rome 1953)
INT. Francis de Sales, Introduction to the Devout Life
Hamon P. Hamon, Vie de St. Francois de Sales, (2 vol., Paris 1854)
O. Oeuvres de St. Francois de Sales, publiees par lessouis des Religieuses de la Visitation du Premier Monastere d'Annecy (26 vol. , Annecy 1892-1932)
SOL. Francis de Sales, Meditazioni per la Solitudine
T.L.G. Francis de Sales, Treatise on the Love of God
Please note: If you buy the book, the bible quotes are not from the Douay Reims, in putting these meditations online for The Catacombs, I have changed the Bible Quotes to reflectthe Douay Reims Bible.
Every Day with Saint Francis de Sales

Teachings and Examples from the Life of the Saint by Salesiana Publishers


March 1st (page 61)

The obligations that we have toward the Eternal Father for creation, we have likewise toward Jesus Christ, Who, by the redemption, has acquired every right of sovereignty over all redeemed creatures. Let us, therefore, exclaim and say to Jesus, "Yes, my God and my King, reign over my soul, my heart and my will; possess all my faculties and submit them entirely to the scepter of obedience."
(Meditations for Solitude, p. 50)

On March 1st, 1610, Francis de Sales lost his virtuous mother, Francoise de Sionnaz de Boisy. In her final days she was assisted by her saintly so, who was both her confessor and her bishop. He gave her the last blessing just as she breathed forth her soul to God, and then he had the strength to close her eyes and her mouth. "After that," he wrote, "my heart got the better of me and I cried for such a good mother more than I had ever done since I became a man of the church; but, thanks be to God, there was no bitterness of heart. It was a quiet pouring forth of my grief, although very deeply felt, while I repeated the words of David, "But I am like a deaf man, hearing not, like a dumb man who opens not his mouth." [Ps 38:14} Without this strength I would certainly have lamented loudly under such a blow, although it seemed to me that I would not have dared to resent her death, nor show discontent for the blows of the fatherly hand of God, Who by His grace had taught me to love her tenderly right from my youth."
(A.S. III, p. 2)

Since Christ accepted death with love and held it up before us to be loved,
I cannot begrudge the death of anyone, so long as he or she dies in the grace
Of His most holy death.