Post by Admin on Mar 9, 2020 14:04:00 GMT
Coronavirus: Tesco limits sales of essential items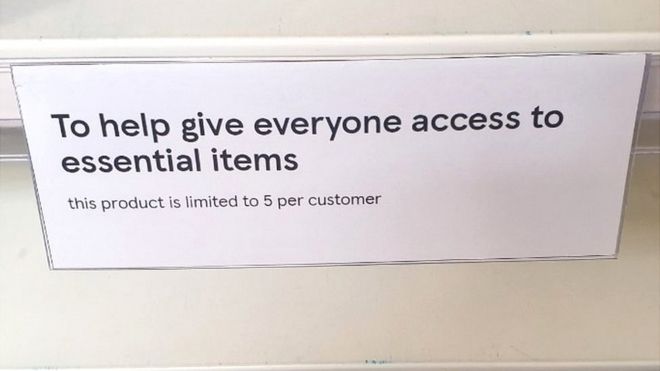 Tesco has introduced signs at point-of-sale in supermarkets, informing shoppers of restrictions

Tesco, the UK's largest grocer, has begun restricting sales of essential food and household items as a result of coronavirus stockpiling.
Shoppers are limited to buying no more than five of certain goods, including antibacterial gels, wipes and sprays, dry pasta, UHT milk and some tinned vegetables
The rules apply in stores and online.
A government spokesperson said it was in touch with UK supermarkets to "discuss their response" to the virus.
Waitrose has introduced a temporary cap on some items on its website, including some anti-bacterial soaps and wipes.
The supermarket said it was in talks with its suppliers to ensure customer demand was met.
It said some individual stores may have introduced their own restrictions, with "some branch managers making a judgement at a localised level".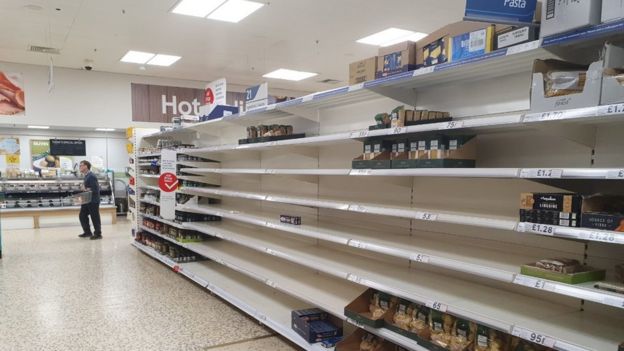 Image caption Empty pasta shelves at the Tesco store in Royston, Hertfordshire

The High Street chemist Boots has restricted sales of hand sanitisers to two per person.
Asda is also restricting some types of hand sanitiser to two bottles per person - the supermarket's only restriction in place currently.
Meanwhile, Sainsbury's said it was not limiting sales of any products in stores or online yet.
On Monday, Environment Secretary George Eustice is expected to hold talks with supermarket and trade bosses about "support for vulnerable groups who may be in isolation", the Department for Environment, Food and Rural Affairs said.
'Short-term shortages'
According to a survey from Retail Economics, as many as one in 10 UK consumers is stockpiling, based on a sample of 2,000 shoppers.
But Dr Andrew Potter, chair in logistics and transport at Cardiff Business School, told the BBC: "Whilst there might be empty shelves at the moment in the shops, over the next week or so, we will see them replenish.
"The supply chain will start to deliver stuff through to the stores and hopefully this shortage - which is fairly short-term - will clear and everything will be back to normal again."
He said while retailers may have been caught out by the beginning of this shopping surge, they had very sophisticated systems to check changes in demand.
Andrew Opie, director of food and sustainability at the British Retail Consortium, echoed that "supply chains remain robust and even where there are challenges, retailers are well-versed in providing measures" to keep shops running smoothly.
Waitrose said it has not put a cap on any of its products in stores.
But it has introduced a temporary cap on certain products on its website, including some anti-bacterial soaps and wipes, "to ensure our customers have access to the products they need".
UK retailers have been warned that they face prosecution if they exploit the coronavirus scare to hike prices for products such as hand sanitisers and face masks.