Post by Admin on Mar 10, 2020 10:45:21 GMT
Bill Gates Could Supply Your Next Coronavirus Test Kit

The Bill and Melinda Gates Foundation will soon begin distributing at-home testing kits for Seattle-area residents who suspect they have contracted Covid-19, according to a new report in the
Seattle Times
.
Test kits could become available as soon as this week, via a lab funded by the foundation, could start testing hundreds per day with scaling availabilities in the weeks ahead.
"Although there's a lot to be worked out, this has enormous potential to turn the tide of the epidemic," Scott Dowell, who is in charge of the
Covid-19 response effort
by the foundation, told the
Times
.
"One of the most important things from our perspective, having watched and worked on this in other parts of the world, is the identification of people who are positive for the virus, so they can be safely isolated and cared for, and the identification of their contacts, who can then be quarantined," Dowell said.
News of the test kits comes as confirmed cases in the US surge above 500 across 34 states. Washington state, specifically the Seattle Metropolitan Area, has been the hardest hit region in the country, with 16 deaths and 128 confirmed cases.
The Gates Foundation has spent more than $20 million in the virus response effort and has committed at least $5 million for the Seattle area.
Trevor Bedford, a computational biologist at Fred Hutchinson Cancer Research Center, warned last week that actual cases in Seattle could be around 600. Bedford said cases could soar to 12,000 to 30,000 by the end of the month if virus containment measures weren't in place to slow down the transmission rate.
While the foundation's urgency for developing a new test kit is timely, Gates was apart of The Event 201 scenario in October
(months before Covid-19) that
modeled
a breakout of coronavirus across the world, killing 65 million people by month 18.
[Emphasis mine.]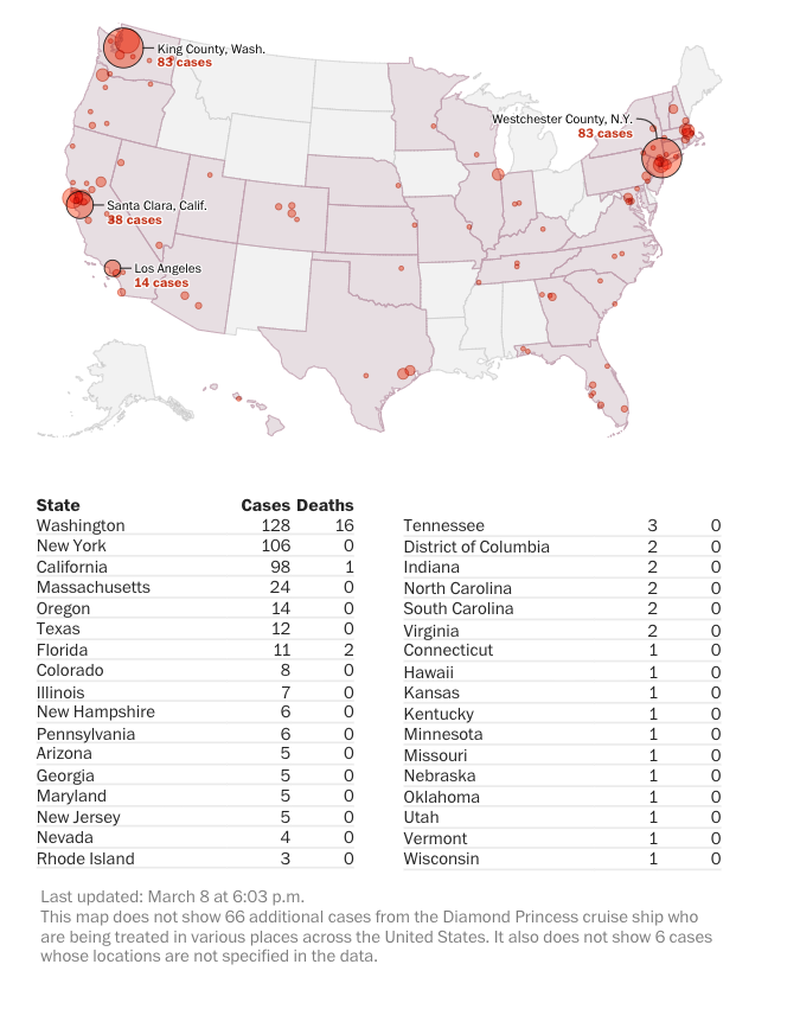 With the Covid-19 breakout only just getting started on the continental US, expect this map to be much redder in the coming weeks. One can only hope the foundation can ramp up test kits, considering there's a massive shortage at hospitals.