Post by Admin on Oct 12, 2020 12:53:03 GMT
The Cleric Who Honored the Joys of Our Lady

In this miracle story, the 12th century Spanish priest Fr. Gonzalo de Berceo makes reference to three of the Joys of Our Lady;

the other two are the Resurrection and the Assumption. It was common then to recite the five salutations

Here is another truth about a cleric who loved the image of Holy Mary. He always bowed before Her painting, and felt very great shame under Her gaze. He loved Her Son and he loved Her: he considered the Son as the Sun and the Mother as the Star. He loved them both very dearly, but since he served them little, he was very troubled.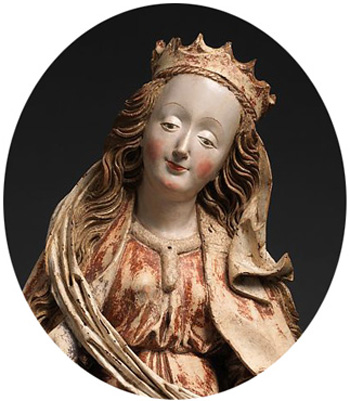 The monk honored Our Lady by chanting her Joys
He learned five phrases, all phrases of joy that speak of the Joys of the Virgin Mary. This cleric recited these before Her each day and She was very well pleased with them. "Joy to you, Mary, who believed the Angel. Joy to you, Mary, who as a virgin conceived. Joy to you, Mary, who bore the Christ Child; the old law You closed and the new one You opened, and so on."
As many as there were wounds suffered by the Son, so many Joys did he recite to the One who bore Him. Indeed the cleric was good and very deserving, and he received a good reward, a good compensation.
In these five Joys that we have named we must understand more. For there are five bodily senses that make us sin – sight, hearing, smell, taste and touch. If we offer freely to the Glorious Mother these five Joys that we have named for the errors we commit due to these five senses, we will earn pardon through Her holy intercession.
Now, this cleric fell gravely ill. His eyes were about to pop out of his head. He considered his journey to be complete and his final hour to be drawing near.
As his hour approached, the Mother of the Heavenly King appeared to him, the One who in mercy is without peer. She said to him:
"Friend, may the Spiritual Father save you, who were His Mother's loyal friend. Take heart, fear not, be not discouraged, know that you will soon be relieved of this pain. Consider yourself at one with God, free from care. With Me near you, you need not fear; consider yourself cured of all the pain. I always received from you service and love, and now I wish to repay you for your labor."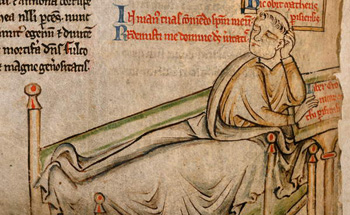 The dying monk received a visit from the Glorious One
Indeed the cleric, hearing these words, thought he would rise from his bed and walk on his own feet once again. But there is a big difference between thinking and knowing. This matter was to end in another way.
For, although the cleric thought that he would leave his sickbed to be once again with his friends, his soul did not receive such an extension. It forsook the body, it had to leave it. The Glorious One, Queen of Heaven, took it. The godchild went with the good Godmother; and the Angels carried it to Heaven where blessings never cease.
What the Glorious Mother promised him, blessed may She be, She indeed fulfilled. What She said, he did not understand, but everything She said turned out true.
All who heard the voice and saw this happen understood that the Glorious One performed a miracle. For she came herself to deliver her loved one from the perils of life. They considered the cleric to be very fortunate, and all glorified the precious Virgin.
Adapted from Gonzalo de Berceo,
Miracles of Our Lady
, trans. by T. Mount and A. Cash, Un of Lexington Press, 1997, pp. 38-409