Post by Admin on Nov 7, 2020 0:14:50 GMT
St. Malachy's Wish Was Fulfilled
Fr. Francis Xavier Schouppe, S.J.
St. Malachy, Cistercian Abbot of Bangor in Ireland, always had a great charity toward the Poor Souls, and this procured for him a great grace.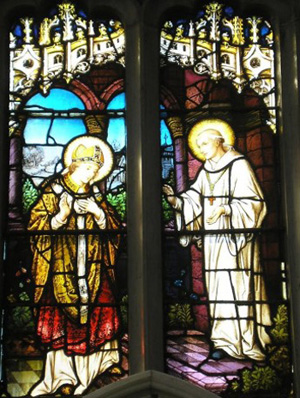 St. Bernard, right, greeting St. Malachy on his way to Rome
One day, being in the company of several pious persons, and conversing familiarly on spiritual matters, they came to speak of their last end.
"If," said he, "the choice were given to each one of you, at what hour and in what place would you like to die?"
At this question one mentioned a certain feast, another such an hour, others, again, at such a place.
When it came to the Saint's turn to express his thoughts, he said that there was no place where he would more willingly end his life than in the Monastery of Clairvaux, governed by St. Bernard, in order that he might immediately enjoy the benefit of the sacrifices of those fervent Religious.
As to the time, he preferred, he said, the Day of All Souls, that he might have part in all the Masses and all the prayers offered throughout the entire Catholic world for the faithful departed.
This, his pious desire, was gratified in every point. He was on his way to Rome in 1148 to visit Pope Eugenius III. Arriving at Clairvaux a little before All Saints, he was overtaken by a serious malady, which obliged him to remain in that holy retreat.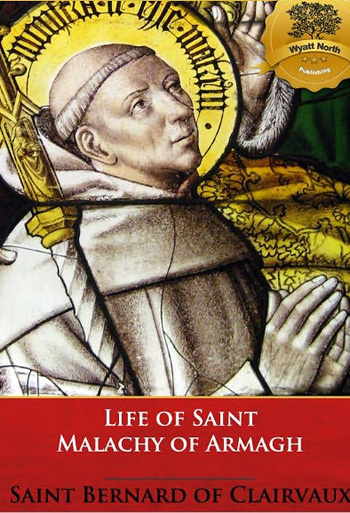 He soon understood that God had heard his prayers, and cried out with the Prophet, "This is my rest forever and ever; here will I dwell, for I have chosen it."
In fact, the day following, All Saints Day, while the whole Church was praying for the departed, Malachy died in the arms of St. Bernard, rendering his soul into the hands of his Creator in the exact way he had desired.
Shortly after, St. Bernard wrote The Life of St. Malachy of Armagh, and his cult spread rapidly, especially among the Cistercians. In 1190 Pope Clement included him among the Cistercian Saints
St Malachy's feast is celebrated on November 3, so as not to clash with All Souls Day.
Adapted from
Purgatory, Illustrated by the Lives and Legends of the Saints
, London: Burns, Oates & Washbourne Ltd, 1920, p. 74