Post by Admin on Mar 21, 2018 9:38:29 GMT
Yesterday [March 18, 2018] the
8th World Water Forum
started in Brasilia-Brazil. It is a meeting of representatives of 50 governments and other organizations around the world sponsored by the
World Water Council
, which is a UN-inspired association founded in France in 1996.
The meeting is programmed for six days, from March 18-23, and has been vigorously promoted by international newspapers turned toward Ecology. I read about it in
L'Osservatore Romano
, which nowadays is championing the spearhead themes of the Revolution.
Vatican seal of approval for water rights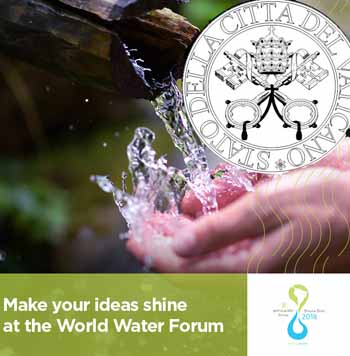 The Vatican approves the Water Forum 8 with its revolutionary aims
So, we have the Red Communist Revolution that changed colors and became the Green Ecologist Revolution and, inside the latter, we have the "right to water" being presented as the polestar of ecological demands.
If you go to Marx' theory of class-struggle, you will see that communists are always looking for pretexts to set one class against another. This provides them with a "noble banner" to wave, which in practice is nothing but a pretext for them to appear in the public arena to spread their nefarious ideas and increase the number of their coreligionists.
Following this strategy, communists set workers against factory owners, peasants against farmers, students against professors, soldiers against officers, women against men, children against parents, homosexuals against normal persons, and so on.
Now, Ecology is giving Communism a whole group of new banners to fight for: Capitalism is presented as a system that destroys the environment by polluting the atmosphere, encouraging consumerism, increasing fortunes and fostering inequality and rising poverty by unfairly distributing production. The most recent of these banners is the one protesting those who have water vs. those without it.
The Revolution always favors this communist strategy, which means that at its full service is the whole institution of international finance and, consequently, the industry, commerce and politics promoting it.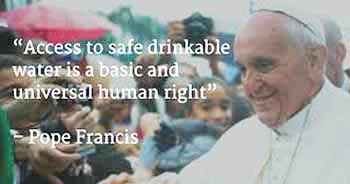 Francis calls for 'water rights' in
Laudato Si'
So, if an industrial boss needs a loan, the bank manager will only grant it after making sure that the industrial CEO is following the winds of the Revolution. If a professor wants to rise in his career, he must show the directors of his university that he does not oppose any of these latest social-political demands. If a politician wants to be re-elected, he only can reach his goal after giving his party the guarantee that he will vote for all the laws that promote the socialist class-struggle aims.
For a very long time the Conciliar Church has been sprinkling these ecological demands with holy water. With the encyclical
Laudato Si'
the papacy fully adopted these revolutionary ideals and took the leadership in promoting them. Now we have holy water blessing the class-struggle for water…

Water takes center stage
How did water become the center point of Ecology? In places like Europe and the United States, most of the social-political-economic problems have already been faced with solutions for them operational or in process – access to land, housing, work, social services, health care, retirement security, insurance against disasters, to mention just a few. So, the field for class-struggle is much narrower than in countries where these problems have not been addressed.
In Europe and the U.S., problems related to Ecology have given a new momentum to class-struggle, but they have the inconvenience of being too general and far removed from personal life: the increase of CO2 levels and its questionable global warming, the melting on the earth's poles, the rise of sea levels, the extinction of whales and polar bears, the disputable need to use paper vs. plastic bags in grocery stores.
Although the media and revolutionary demagogues speak constantly on these issues, enough common sense still remains in the Western mentality to reduce the practical effect of such demands, weakening the effects their promoters had expected. So, even if in Europe and the U.S. no one is dying of thirst, the water issue is designed to be a more cogent problem that will raise the attention of the public and help the class-struggle move forward.
We can understand how intolerably intrusive this campaign can become by imagining a community-watch-group in England obliging a man to keep the water of his morning shower to reuse it for his 5 o'clock tea or forcing his wife to stop watering the roses in her garden in order not to "deprive the poor" of their due share of water.

Oppressive program of the WWF
As a daily reader of
L'Osservatore Romano
, my attention was directed to the World Water Forum. Several days ago, I went to the page where the meetings' schedules were posted. I found so many different topics to be addressed by the participants that I wondered whether they would have the actual time to even read them.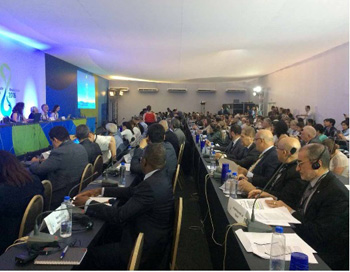 Participants receive a stressful schedule, almost impossible to read
Indeed, I copied-and-pasted the meetings' schedules and, by the time I finished, had more than 35,000 words filling 60 pages of regular paper. I thought: If only these schedules are taking me more than three days to read and analyze, how can those participants have the time to read and discuss these topics at ease? It is practically impossible.
I am posting these 60 pages
here
for any reader who wants to peruse them – the points that favor the Revolution and merit comment I changed to red text; explicit mention of
Agenda 2030
that was prepared to bring mankind to the One World Order are marked in green.
Given the practical impossibility of addressing all those topics in six days of talks – the first and last days are planned to be only ceremonies, which leaves only four working days for the meetings – the next conclusion is: The organizers of this WWF are not actually interested in hearing what the participants have to say. Their own agenda is already prepared. The directors will allow the participants to make their observations, relevant or not, and then call for a vote on a final document, whose guidelines most probably have already been prepared.
Thus, like most of these "democratic" meetings, this gathering seems to have been convened just to give the impression of a general accord on the topic; in reality, there is a mafia controlling the program as well as the final decisions and texts.
Based on these presuppositions, in the next article I will begin my analysis of the more relevant points of the schedules, which concern Agenda 2030 – the plan of action for the Revolution to bring mankind to the One World Order in the next 12 years. I will try to put things in perspective to show that the need for water is now at the heart of the Ecological Revolution.
The main goal of the 8th World Water Forum (WWF) now taking place in Brasilia is to enforce the Agenda 2030, which is a plan the UN adopted in 2015 to oblige the whole world to become ecological acceptable by 2030. The signers of that document swore to put their Green Revolution into practice in 15 years (12 years from now).
Agenda 2030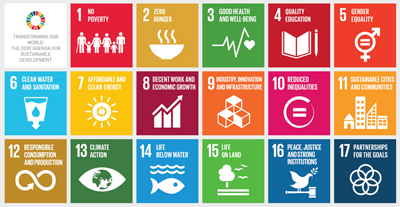 Sustainable Development Goals 6 and 14 of the Agenda 2030 are directly linked to water
When the UN wrote that agenda, its priority was summarized in 17 purposes known as Sustainable Development Goals (SDGs), which can be found by scrolling down the text of the Agenda 2030. Two of those goals – SDG-6 and SDG-14 – are directly related to water.
Now, let me analyze the schedules proposed by WWF to the those gathering in Brasilia. The texts I am transcribing were studied by yesterday's participants – March 19. Since the texts are quite numerous I will quote only some texts as samples, taken from
its main webpage
, and comment briefly on them.
Schedule 1 – March 19, Monday, 4:30 - 6 p.m. meeting – Cities require the adoption of sustainable and integrated processes for urban waste and water management. … Despite increasing investments in promoting its rational use, the use of water in urban environments generates significant and increasing volumes of effluents, whose treatment and final destination is of paramount importance. In this scenario, methodologies for water treatment and reuse and waste recycling, associated with campaigns to reduce consumption, are gaining importance to improve life conditions in cities.

In this session the topics of circular economy – reduce, reuse, recycle – water and cities, and treatment and reuse technologies in Europe, including risk analysis, will be discussed. A comprehensive and multidisciplinary perspective of these topics will be provided, including public policy, technology, economic, environmental and social components.

1. It is interesting first to notice the imperative tone taken by the WWF organizers. They act as if they were emperors of the world and can decide on everything at will. They portray themselves as hierophants of a new religion in the name of a divinity - an earth goddess. They show absolutely no concern about asking whether the patients who receive these prescriptions – the cities – are in agreement.
2. The schedule affirms that cities require "sustainable and integrated processes of urban waste and management." In principle, this is correct. But who is the authority to determine whether a process is sustainable? Is it officials of the municipality, the state or the country? If this were the case, the country would maintain its sovereignty. Or is that authority intended to be a WWF or the UN representative? If this were the case – which is the most probable interpretation – the city and country would lose their autonomy and sovereignty and become a part of the One World Order.
Further, what is meant when it states that a city's process of water management is "integrated"? Integrated with what? Is it the region to which the city belongs or is it to a global government? It seems very much that the latter is what the WWF is imagining.
sewer water sustainable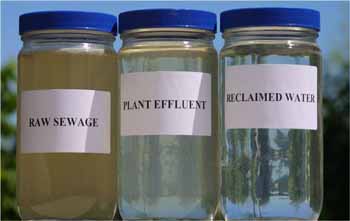 Projects are already in motion to 'reclaim' sewer water for drinking water
3. We can see that the solutions proposed for the ambiguous problems of not being sustainable and integrated are found in what is called the "circular economy," which is explained reducing the use of water, reusing it and recycling it.
Now, the concept of reducing water usage is not difficult to grasp. But what it reusing water mean here? Does it mean to reuse water waste? A housewife could respond: "It's really very simple: after you boil eggs in water, you save it to clean your dishes." I believe this is very reasonable. However, in that same conception could be the plan to save the water from your shower to reuse it to cook your food. The notion of recycling water goes still farther. It seems to include the reuse sewer water and, through chemical processes, cleanse it of its impurities to make it drinkable again.
These are some first comments this text suggests.
Schedule 2 – March 19, Monday, 4:30 to 6 p.m. meeting – The targets under SDG 6 [Sustainable Development Goals n. 6 from the UN Agenda 2030], whether WASH-related [water, sanitation and hygiene] or water resources management-related, can only be achieved if stakeholders from different sectors – e.g. government, NGOs, communities, research, business, etc. – and different backgrounds – including women, youth, indigenous – come together in an inclusive way and find collective solutions to the challenges shared.

This session is meant to present the most successful and inclusive multi-stakeholder platforms and best practices covering the different aspects of SDG 6 and the six main themes of the World Water Forum.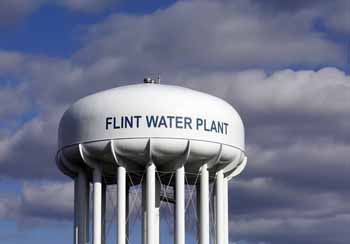 Taking control the water management of cities and countries for a One World Order
Now, the dictators of the WWF set out to determine who will apply the already decided UN agenda and goals, as well as resolve how such goals must be enforced. It no longer falls to legitimate elected governments to choose how to enforce the agenda. That is to say, the democratic system that almost universally prevails in Western countries where each country has its executive, legislative and judicial branches to govern it – is set aside by the WWF to replace it with a new system.
In the latter the governments have but one vote among the many others that are completely arbitrary. Indeed, what gives NGOs the right to make decvision about the well-being of the world? Why should women and indigenous peoples as such have an vote equal to that of the governments? No clear criteria is set forth to explain why the WWF is now abolishing the democratic system to replace it with "a more inclusive way" in order to "find collective solutions to the challenges shared."
What we are witnessing is a de facto revolution whereby the prevailing Western system of government is being virtually abolished to be replaced by something that looks like a tribal system.
Schedule 3 – March 19, Monday, 4:30 to 6 p.m. meeting – Migration is a universal and common process and is linked to development in multiple ways. When mainstreamed in broader frameworks, especially in development planning, migration can benefit the communities at both origin and destination. Migrants can and do support their home communities through remittances as well as the knowledge and skills they acquire in the process while contributing to the host communities' development.

Safe, orderly and regular migration can contribute to agricultural development, economic growth, food security and rural livelihoods. Migration can also be a part of climate change adaptation efforts. Yet, those migrants who are poor and low-skilled face the biggest challenges emanating from migration that occurs on involuntary, unsafe and irregular basis. This high-level panel has been organized by FAO on behalf of UN-Water.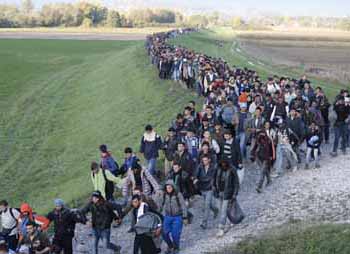 Massive immigration into Germany - What has this to do with water?
I am transcribing this schedule only to show my reader how the WWF is promoting indiscriminate immigration. Actually there is no especially relationship between water and immigration. But the WWF had to find a way to bring it to the attention of its participants in order to tell them that if they want to be "in" the ecological religion, they must support immigration everywhere.
It is not difficult to see that this goal favors those who want to destroy, through a massive Muslim immigration, the traditions of a Catholic Civilization that still remain in Europe and the sound traditions of other countries like the United States that still stand for other moral and institutional values.
These are three out of 29 schedules that were offered to the participants yesterday. They allow us to see in what direction the World Water Forum is moving. As WWF continues in the next days, I will also continue with these analyses on other relevant topics its participants are examining.
To be continued...