Post by Admin on Apr 10, 2018 9:45:08 GMT
In a recent meeting, I had the occasion to affirm that the there is no Catholic spirit without the Crusader spirit. I was asked to develop this theme. This is what I will do here.
The question of the Crusader spirit is rooted in the very constitution of the human spirit and mentality.
It is proper for a man, after original sin, when he loves something, to love it for his own pleasure, for the advantage it brings him, and not moved by dedication.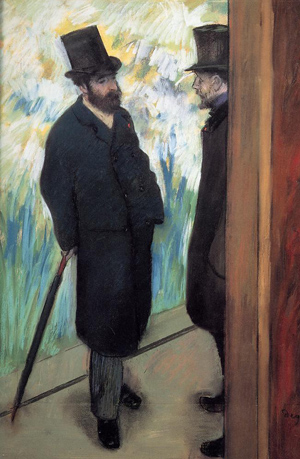 Enjoying the company of a friend does not demand dedication
Let us imagine, for example, a man who has a friend. We can say that he takes much pleasure in his friendship because he finds the other person very agreeable, intelligent in conversation, etc. His natural tendency is to be very pleased with his friend's company, taking advantage of it when possible, but not to the point of dedication. In final analysis, to take advantage of it, yes; to dedicate himself to it, no.
A husband and wife can find each other's company very agreeable, giving them pleasure, but not calling for dedication. Because dedication supposes sacrifice, and it is evident that human nature flees from sacrifice. Every human creature has a horror of sacrificing himself. The world flees from onerous sacrifices.
It is because of this that in relation to the Catholic Church and her doctrine – including to Our Lord Jesus Christ and Our Lady – we look and we see something very good and admirable and, thus, we seek her benefits. For example, we come to the conclusion that Our Lady loves us very much and is going to grant us some benefits. So, we pray to her and deem everything is perfect, all is going very well.
But, when the occasion arises to dedicate ourselves, to do something for Our Lady, our position of soul is quite different. We are all satisfied when she does something for us; we draw back when it is a matter of doing something for her. We do not want to sacrifice. This is the misery of the human spirit, which is continuously like this.

There is no friendship without the spirit of sacrifice
It happens that true love, true dedication, true friendship, true idealism, only exists where there is the spirit of sacrifice. When one is not disposed to dedicate himself, any talk of friendship or declaration of affection is empty. Either the person proves his affection, his friendship, his idealism with deeds that cost him something or he ends by proving that he lacks true affection, true dedication.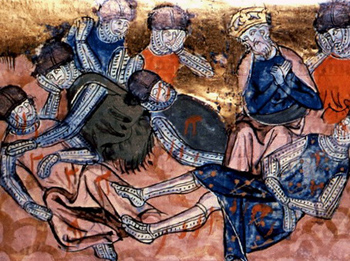 Charlemagne discovers the body of Roland, who gave his life for the Emperor and the Catholic cause



Imagine that I have a friend who comes to me and says, "You don't know how much I like you! You are such a distinguished man. Come here, my dear friend, etc." And I say to him, "Look, I have need of a small favor from you."
His reply, "Ah, not this! This is something altogether different."
I conclude, then, that his words meant nothing. Because, either the friendship he has for me leads him to some sort of dedication or it is not friendship. It is foolishness, emptiness, fantasy, sentimentalism, whatever word you choose. One can even call it hypocrisy, because friendship is proved to the measure that a person is capable of dedicating himself to another.
There is a Roman saying that makes an interesting play of words, which is,
amicus certus in re incerta, cernitur
–
we can discern a certain, secure friend during an uncertain time
. This is very true. Friendship proves itself in the solidarity of the fight.
Now, the occasion where we have most need of others, the time when friendship is best proven, is when we are attacked.
When some enemy takes a position against me, it is then that I know who my true friends are. Because if he remains indifferent in face of an attack against my person, then, as a friend, he fails. If, in the hour of battle, he just sits back and watches like a stranger, then he is not my friend. He is an acquaintance and nothing else, a vague sympathizer, but not a friend.
This is what happens in all occasions of life. When we have troubles or face a polemic where others take positions against us, we expect that those who say they are with us to be fighting on our side.
Adoration demands the combative spirit
Therefore, if it is true that friendship demands dedication and that the highest dedication is proved in the solidarity of the battle, then we arrive at the conclusion that, in relation to Our Lord Jesus Christ and the Church, there is no true dedication without the combative spirit. Where there is no combative spirit, there are only empty words and illusions.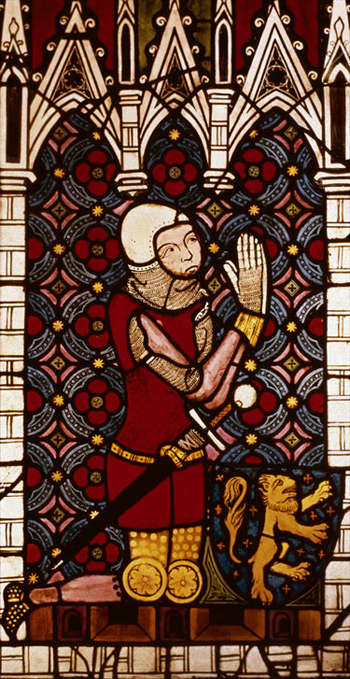 One must not just pray, but be ready to take up the fight for love of God
Why? Because if Our Lord Jesus Christ is God, is my Savior, if He shed His blood and gave His Life for me and was willing to do all of this for me alone, then if I am grateful for this and if my gratitude is not just saying hypocritical words, when He is attacked, I have the obligation to counter-attack in His name.
I have the obligation to become indignant over the injuries made against Him, much more than for injuries made against myself. I have to be disposed to fight for Him even to the last drop of my blood, much more than if it were a matter just of my own self-interest.
This is the logical consequence of adoration, otherwise there is not real adoration. What does it mean to enter a church and make a Holy Hour, weeping and beating my breast, and afterwards leave and see a person who sins, who offends Our Lord, and look at him indifferently because he is not offending me. Of what worth is my Holy Hour? What was the sincerity of that love that I paid to Our Lord? What was the consequence of the love I was offering Him during that Holy Hour? It meant nothing; it is inconsistent.
To be sincere in my adoration and my worship, I am obliged to be combative.
Our obligations as sons of the Church
Let us take into consideration:
that Our Lord Jesus Christ is the head of the Mystical Body, which is the Church, and that she is militant;
that on this earth she is attacked, denied, contested and betrayed;
that if I have a militant spirit I must defend the Church whenever she is attacked.

Taking these points into consideration, I must defeat her adversaries and prove that she can count on my dedication, my elevated dedication. I am not ashamed of her, but instead I raise my head high before those who try to make me ashamed of her. I am disposed to attack them, to reduce them to silence and to do everything permitted against them, within the strict limits of morality and legality.
Either it is like this or I should frankly admit that because of my pride, my confusion, I do not have a real spiritual life of piety. If the Church is militant and I am not militant alongside her, then, nothing makes sense and everything seems buffoonery.
If I adore Our Lord Jesus Christ, what should be my response when the Mohametans come and take the Sepulcher of Christ? After this affront, can I go to a parish festival, content and grinning broadly, without taking into consideration the Sepulcher of Christ was taken? Is this reasonable? Does it make sense? No, it does not.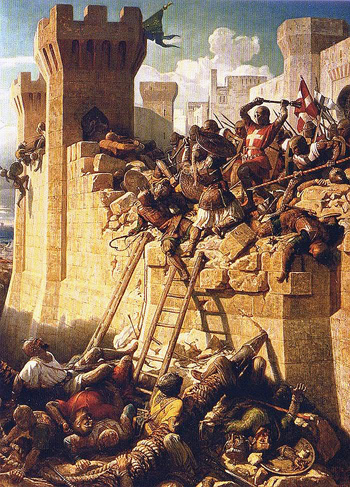 Yesterday Jerusalem had external enemies, today, we must defend the Church from infiltrated enemies
Now, one single soul has much more worth than the Sepulcher of Christ. The soul of any one of us is worth incomparably more than the Sepulcher of Christ. Our Lord would never have become incarnate to save some inanimate object. He became incarnate to save souls because they are worth much more than any lifeless object.
If I see a person who causes scandal, who leads another soul to sin and perdition, a person puffed up as a sinner, disdaining virtuous and upright men and, thus, offending Our Lord and I am indifferent to this offense; if I do not become indignant and disposed to fight, then I am nothing.
If I know that the Church has enemies who conspire to extirpate her from the face of the earth, if I know that this conspiracy is continuous, constant, surrounding me completely like a sea encloses a fish; if I do not take the initiative to destroy this conspiracy; if I do not try to speak out forcefully to stop this cabal in its tracks and make it retract, then I am not truly a good Catholic. I am a bad Catholic, a piddling Catholic. I cannot say I have a true love of God.
At the least, I should not offend God with my manifestations of empty, hollow love. I should speak frankly: "My God, have pity on me! You see everything: You see that I do not love You. I beat my breast. I do not love You. I am not going to lie to You. I do not have the love I should have for You. I lament this. Do not unleash Your anger on me. Pardon me and give me a serious love."
What is true love of God? It is a combative love. That is to say, in relation to the anti-Catholic conspiracy, I should not desire that it just suffer some losses, but rather that it cease to exist and never appear again on the face of the earth. And if it should still exist, that it does so humiliated, fearful, contradicted in its goals, embarrassed and beaten.
As much as possible in this great ideological combat, we should take the initiative in the fight. In defense of our rights, we should make aggressiveness the cutting edge of our dedication. It should be an aggressiveness in a legitimate defense of the Church, but a true aggressiveness. That is to say, in whatever is indispensable for her defense, we are ready to counter-attack, ready to sally forth at any moment, in all circumstances.
Combat is the fruit of asceticism & reflection
But, we should not fool ourselves. This is not an easy position to take. We must train our minds by means of a continuous asceticism so that we may maintain such vigilance constantly, Because to combat is disagreeable, above all, when one combats seriously. To combat is not to attack on occasion when one is angry. Combat is the child of reflection and deliberation.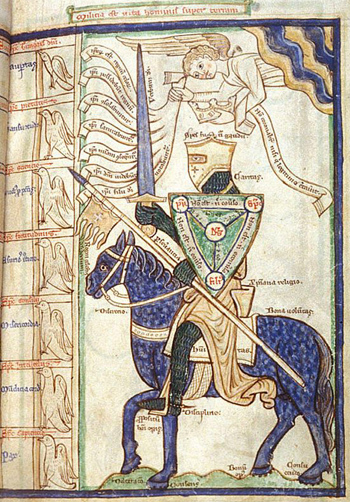 The Catholic Crusader, armed with virtues & all the appropriate weapons for battle
Whether I am personally irritated or not should be of no account. I am a pure instrument in the hands of the Catholic Church, and I have to train my intelligence to show me when combat is in the interest of the Church. If it is in her interest to attack, I will attack, even if it is to my disadvantage.
If it is in the interest of the Church that I remain silent, I will take as many slaps that come and allow myself to be stepped on in whatever way necessary, but I will be silent because it is in the Church's interest. For, if I love Our Lord and Our Lady as I should love them, I should live for the interest of the Catholic Church.
This is the Crusader spirit. The Crusader is one who exercises over himself a continuous asceticism, so that he always makes a defense at the hour when he should, using all the force he should, always advancing or retreating as necessary, never holding back a blow to the adversary or never delivering a weaker blow than what should be given. This is the true warrior. To be like this, to seek not what people are thinking about you, but rather the position of militancy before the Catholic Church. This is the combative spirit, it is the warrior spirit.
Each one of us must be a Crusader in every circumstance, a Crusader against all those who are against the Cross, fighting enduringly in all terrains, in all fields, in every way, from morning to night. We must fight with a smile or a scowl, fight with the word or the pen, fight in every available way. When someone views the true Crusader even from a distance, he says: "Here is a warrior. Here is the man who has a true Crusader spirit."
Softness and sentimentalism constitute the opposite of the Crusader spirit. There are persons who have a thousand blunders in their head, as, for example, the notion that perhaps it is not good to be combative, but rather one should be amiable and kind.
I respond: "This is not so. To be combative does not excuse anyone from being amiable and kind! When the time calls for it, be amiable and kind. You should do so to fulfill your duty. But when a man must fight, he should enter the combat. His reason should govern his will and the latter should guide his actions. And, above all, the Faith should govern his reason.
It is the Faith that shows him he should combat continuously. This is the life of the true Crusader. This is what is in the depths of the Catholic soul.
Anyone who follows the Catholic path and is not like this is not in true conscience following the path of militancy that a counter-revolutionary must take.
Avoiding frustration
Let me say a few words about frustration.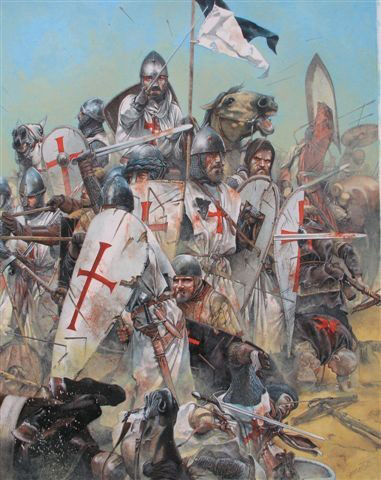 The Catholic must fight when it is the time to battle
At times I come across places where there are large groups of people. I look and see many physiognomies that give me happiness. But, I also see others – their arms hanging, a languid expression, a gaze lost in the horizon, an indifferent air.
I would like to go up to them and say: "Look around you. Don't you see anything further than your self-centered sentimentalism? Don't you understand that you are engaged in a fight where you are a warrior? Do you know why you are so frustrated? It is because you are not fighting."
The life of a Catholic who is not fighting is one of frustration. We are here on earth to fight. And if we do not fight, we become frustrated. It is not pleasure or rest that prevents frustration.
I will say more: Prayer without the spirit of combat also leads to frustration. The frustrated man is one who perceives that he should be something that he is not and who does not really know who he is. He should be a fighter, a man disposed to do everything, including smile and take blows if it be necessary for the Catholic Cause. This is the perfect Crusader.

The Crusader spirit & orthodoxy
The Crusader spirit transposed to the field of doctrine results in orthodoxy. Because if a man dedicates himself to the study of doctrine with the Crusader spirit, he ends by making a Crusade against the errors opposed to the truths that he is studying.
An individual with the Crusader spirit who studies doctrine can find it interesting and even exclaim: "How beautiful truth is! How delightful it is!" But, then, he says: "It is not only delightful because I understand what I read and love what I understand, but I will look for the error that opposes it now and later. I will seek out the doctrine that opposes and contradicts the truth in order to destroy it. For the error is on my heels, and if I do not run after it, it runs after me." This position results in a keen orthodoxy.
Legitimate defense & aggressiveness
Before ending, I would like to touch on a strongly related topic. Someone could raise the following objection: "What you say seems to promote aggressiveness, when we are supposed only to fight for our legitimate defense. How does you harmonize legitimate defense with aggressiveness?
I respond that the concepts of legitimate defense and aggressiveness are correlated concepts. Defense is legitimate only when it is against an aggressor.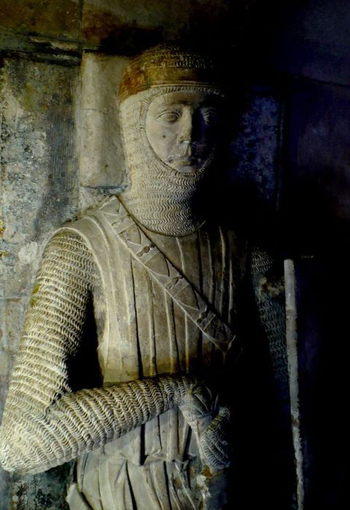 Even in death the knight wanted to be battle-ready
The typical legitimate defense is the defense of one's body or of one's right against a physical violence. It is often impossible to defend oneself adequately from physical violence except with counter-physical violence. And, in this case, when the counter-violence is proportional to the violence, it is indispensable for a person to save or defend himself. So, this is obviously a legitimate violence. This is what the moralists with good sense and the penal laws of all civilized countries say.
Thus, we cannot conceive of an affirmation of the right of legitimate self-defense not being due to an act of aggression.
There can also be a legitimate moral defense. What would this be?
It is when the person, attacked on the moral front, defends himself by a proportioned means. That is to say, physical aggression is not the means to defend oneself against a moral aggression. One responds with moral arms to a moral aggression, just as one responds with physical arms to a physical aggression. This is obvious.
As for the adversary, it is clear that the ideal would be to win his conversion. However, we should not fight against an adversary on the ideological terrain with the first aim to covert him, but we should fight above all so that he will not pervert others who are innocent. We should love the innocent more than the guilty. But, we also owe to the guilty this form of love, which is to desire that he will abandon his error.
[We consider this in our defense of the faith against the errors of Vatican II, the errors of Bishops Fellay and Williamson.]
And it was for this reason, for example, that we built an oratory and offer our prayers also for the terrorists who placed a bomb against us. In the very place where they planned to kill us, we pray for our country but we also pray for them.
[Red font emphasis -
The Catacombs
]