Post by Admin on May 26, 2018 10:47:21 GMT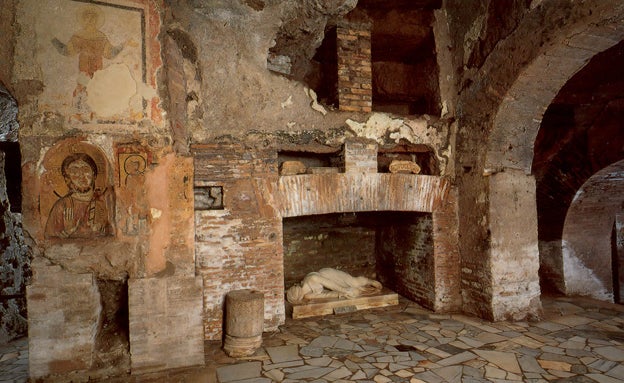 To address your question with respect to lay control
in a general sense
, Fidelis, it goes back to what Edmund posted recently:
thecatacombs.org/post/1814
. Its about always being oriented to God above and not inwardly to ourselves. It truly has to do with loving God
more
than ourselves.
If
we love God more than ourselves, we will always remain humble.
When it comes right down to it, isn't it really pride that must be present for lay control to assert itself?
Fr. Pfeiffer and Fr. Hewko have preached for years, 'you focus on the doctrine of the priests'. That is how you know who to trust. One of the (very good) resistance coordinators outside the US has frequently said that he worked with and for the SSPX for nearly forty years: "If I had to leave every time some priest made a mistake, I never would have been there more than a few months. There were many mistakes. But the SSPX doctrine was good for those years so I stayed. Once the doctrine in the SSPX changed, then I left."

In these times of crisis of the Faith, we must hold fast to this rule: We focus on the doctrine. If we have good, doctrinally sound priests, especially those who have been ministering to us for years, we must trust them when it comes down to bringing in other priests. It is the hierarchical right of the priest over the laity to direct and guide in spiritual matters.

In the case of Australia, what a relief it would be to the OLMC Fathers to have another good priest available to help, so the Fathers wouldn't have to travel half way across the globe to bring them the sacraments. It is because of their good hearts that the OLMC priests have been doing so and will continue to do so. But if there is not doctrinally sound priest available to do so, then they shoulder the burden themselves. Look at Machabees post above:

What irks me is this nonsense (personal attack really) saying OLMC doesn't want the Australians to have other Catholic priests. Well, lets count the ways...

It was Frs. Pfeiffer and Chazal in 2012 that led the Catholic charge by the grace of God none of us would have known the dept of the malice Menzingen administration has been furnishing for their unsuspecting followers. These fathers have build numerous missions around the world and visiting their brother priests and lax priests to join the fight for Christ and the bull horn against modernism inside their beloved SSPX and the Church. Some didn't respond; some did. Of those that did OLMC brought them in and into the missions to help - everywhere.

In the false resistance, there is wallowing like Rachel "where are the priests" and why do they stay put...not going anywhere is at the sinful feet of Bishop Williamson who tells them to say no to YOU and other countries. So really, put your energy against those traitor PAX priests than blasting those other generous few priests of OLMC traveling the world for only a few souls...is that NOT being generous enough for YOU.

So let's see who was trying to help who and bring priests to Australia.

Under SSPX-mc/OLMC: EIGHT priests

Fr. Chazal was sent.
Fr. Pecot was sent.
Fr. Suneal was sent.
Fr. Ortiz was sent.
Fr. MacDonald was sent.
Fr. Roberts was sent but you squabbled and tallied.
Fr. Hewko was sent.
Fr. Pfeiffer has been many times.
Did I miss any?
If it was a Fr. Cummins mission in Australia, the decision would be his on which other priests to bring into his missions. If it was a Fr. Normandin mission in Canada, the decision would be his to decide which priests to bring in. In these times of crisis, these good priests saw a danger to their flocks (the errors and heresies of Vatican II and all the fruits thereof) and they jealously guarded those souls in their care. It is what makes a good shepard, good.

In times past, the Church provided everything: the location, the altar, the altar supplies, etc. Now, when we are back to Masses in homes and hotels the laity have willingly stepped forward to coordinate and in many instances, provide more than what is needed for the priest to come and say Mass. In their zeal for their faith, they have gone above and beyond to give God their best and provided beautiful altars, altar linens, ciboriums, tabernacles, etc. It comes back to honoring God first and providing all things for His honor and glory. Ad majorem Dei gloriam. These things were always provided by the Church. But we are back in the trenches, back in the Catacombs.

Because of our current battle for the Faith when more help is needed from the laity than in times past than when the Church could provide everything, it is a perfect opportunistic situation for the devil. If he can inflame the pride of the laity to think that they have more power and control than they really do, he can quickly strike the blow to separate them from good priests. Recall this specific error that we were reminded of in the OP from over two hundred years ago:

Trusteeism
Trusteeism involved the practice of Catholic laity assuming control of the administration of churches, even to the point of hiring and firing pastors. This practice began in colonial times [America] when laymen raised money, purchased land, and built churches themselves due to the decentralized structure of the early Church. Bishops' rejection of such lay involvement...
We must remember this goal of hell: to separate as many good souls from good priests as possible. [It worked really really well at Vatican II.] Once the sheep have lost their good shepard, they are easy fodder. Again, a good shepard jealously guards his sheep. Even if they must guard them against themselves. Sometimes its not always a predator dragging them off, sometimes they want to wander. A good shepard will warn and pull them back.

We must stay focused on the prize. We must stay focused on eternity. If we are focused on eternity, we will not wander. We will not think the proverbial grass is greener on the other side and be continually shopping for other priests ourselves but let God bring them to us. We will have the patience of Job in our tribulations and trials. And in all things we will say, Blessed be God.