Post by Elizabeth on Mar 9, 2019 15:00:40 GMT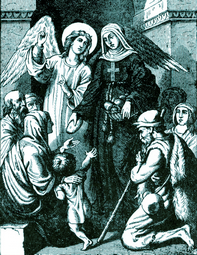 Saint Frances of Rome
Widow
(1384-1440)
Patron of motorists and widows

Frances was born in Rome in 1384. Her parents, of high rank, overruled her desire to become a nun, and when she reached the age of twelve, married her to Lorenzo Ponziano, a Roman noble. During the forty years of their married life they never had a disagreement. While spending her days in retirement and prayer, Saint Frances attended promptly to every household duty, saying, A married woman must leave God at the altar to find Him in her domestic cares. She once found the verse of a psalm, at which she had been four times thus interrupted, completed for her in letters of gold. Her ordinary food was dry bread, and secretly she would exchange with beggars good food for their hard crusts.
Two of her children died young. Her son was nine years old when he foretold his father's death wound and his own coming departure for heaven; and then he returned a year later with an Angel whom she saw clearly. He said he had come for his little five year-old sister, that she might be placed among the Angels with him. He left the Angel with her in exchange, to remain always.
During the invasion of Rome in 1413, Lorenzo was banished, his estates confiscated, his house destroyed, and his eldest son taken as a hostage. Frances saw in these losses only the hand of God, and blessed His holy Name. When peace was restored Ponziano recovered his estates, and after her husband's death, Saint Frances founded a Community of Benedictine Oblate nuns. At the age of forty-three, barefoot and with a cord about her neck she asked admission to the community, and was soon elected Superior.
She lived at all times in the presence of God, and among many visions was given constant sight of her Angel, who shed such a brightness around him that the Saint could read her midnight Office by this light alone. He shielded her in time of temptation, and directed her in every good act. But when she fell into some fault, he faded from her sight, and whenever any unsuitable words were spoken before her, he covered his face in shame. Saint Frances died on the day she foretold, March 9, 1440.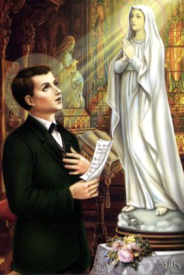 Saint Dominic Savio
Confessor
(1842-1857)
Patron of choirboys and the falsely accused

Saint Dominic Savio was born in Riva di Chieri, Italy, on April 2, 1842. He looked so frail and weak on the morning of his birth that his father rushed him that same evening to the parish church for Baptism. But Dominic survived and began serving Mass when he was five years old, one of his greatest joys. He was often seen at five o'clock in the morning in front of the church on his knees in rain or snow, waiting for the doors to be opened. On the occasion of his First Holy Communion he made the resolution to die rather than sin, as he had frequently expressed his determination and ambition to become a Saint.
The village pastor at Mondonio, recognizing in Dominic a soul of predilection, arranged to have him enter Don Bosco's Oratory at Turin. Don Bosco soon noted Dominic's consuming quest for sanctity, and pointed out to the boy that the path to holiness is not necessarily among hair shirts and tortures of the flesh, but in the cheerful bearing and offering of each day's small crosses. Steering the lad away from artificial practices, his loved master showed him that for a soul avid of penance, there is a superabundance to be had for the taking, through acceptance of the monotony and tribulations inseparable from the perfect fulfillment of the duties of one's state of life.
After a few months of life in the environment of the Oratory and under the saintly care of Saint John Bosco, Dominic's soul was fired with the zeal of his master, whose rule of life, Give me souls, Lord; You take the rest, the boy adopted for his own. Following the example of Don Bosco, who in season and out of season sought those souls wherever they were to be found, Dominic also went after them in his own little world. In the Oratory he founded and directed the Immaculate Conception Sodality, a group of boys who by prayer, word and example carried on an apostolate among their classmates and proved to be of valuable assistance to Don Bosco in his work.
On one occasion Dominic broke up a vicious duel with stones. Standing between the boy-duelists with dramatic suddenness, he flashed a crucifix and said: This is Friday. Today Christ died for love of us. Can you look at Him and still hate each other?
When Dominic's health began to fail he was forced to leave the Oratory. Don Bosco and the boys were very sorry to see him leave; he had been a good friend to all. Don Bosco said of him: His cheerful character and lively disposition made him extremely popular even among those boys who were no great lovers of their faith. His death at his home on March 9, 1857, was sweet and peaceful. Pope Pius XII canonized him in June, 1954.