Post by Elizabeth on Mar 16, 2019 18:24:13 GMT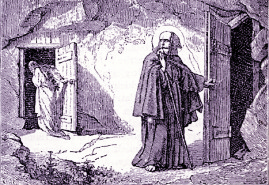 Saint Abraham
Solitary and Priest
(†370)
and Saint Mary (†375)
his niece

Abraham was a rich nobleman of Edessa, born in the year 300. Ceding to his parents' desire, while still very young he married, but escaped to a cell near the city as soon as the feast was over. His family searched for him for seventeen days, and were still more astonished when they found him. Why are you surprised? he asked them. Admire instead the favor God has granted me, the grace to bear the yoke of His service, which He has wanted to impose on me without regard to my unworthiness. He walled up his cell door, leaving only a small window open for the food which would be brought to him from that time on.
The wealth which fell to Saint Abraham by the death of his parents ten years after his retirement, he gave to the poor by the good offices of a friend, to whose probity he entrusted the commission. Since many were seeking him out for advice and consolation, the Bishop of Edessa ordained him priest, overruling his humility. Soon after his ordination, he was sent to an idolatrous city which had hitherto been deaf to every messenger. He was insulted, beaten, and three times banished, but he returned each time with fresh zeal. For three years he pleaded with God for those souls, and in the end prevailed. Every citizen came to him for Baptism. After providing for their spiritual needs he went back to his cell, more than ever convinced of the power of prayer.
In that cell, then, for fifty years, he would continue to sing God's praises and implore mercy for himself and for all men. Saint Ephrem wrote of him that a day did not pass without his shedding tears; but that despite his constant and severe penance, he always maintained an agreeable disposition and a healthy and vigorous body. He never reproved anyone with sharpness, but all he said was seasoned with the salt of charity and gentleness.
His brother on dying left an only daughter, Mary, to the Saint's care. He placed her in a cell near his own, and devoted himself to training her in perfection. After twenty years of innocence she grew lax and fled to a distant city, where she drowned the voice of her conscience in sin. For two years the Saint and his friend Saint Ephrem prayed earnestly for her. Then Abraham went in disguise to seek the lost sheep, and had the joy of bringing her back to the desert a true penitent. She received the gift of miracles, and her countenance after death shone as the sun. Saint Abraham died five years before her, in about 360. All of Edessa came for his last blessing and to secure his relics.