Post by Elizabeth on Mar 22, 2019 14:23:40 GMT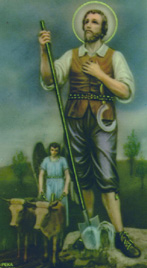 St. Isidore the Farmer
Patron of farmers
A Spanish day-laborer; b. near Madrid, about the year 1070; d. 15 May, 1130, at the same place. He was in the service of a certain Juan de Vargas on a farm in the vicinity of Madrid. Every morning before going to work he was accustomed to hear a Mass at one of the churches in Madrid. One day his fellow-laborers complained to their master that Isidore was always late for work in the morning. Upon investigation, so runs the legend, the master found Isidore at prayer, while an angel was doing the ploughing for him. On another occasion his master saw an angel ploughing on either side of him, so that Isidore's work was equal to that of three of his fellow-laborers. Isidore is also said to have brought back to life the deceased daughter of his master and to have caused a fountain of fresh water to burst from the dry earth in order to quench the thirst of his master. He was married to Maria Torribia, a canonized saint, who is venerated in Spain as Maria della Cabeza, from the fact that her head (Spanish, cabeza) is often carried in procession especially in time of drought. They had one son, who died in his youth. On one occasion this son fell into a deep well and at the prayers of his parents the water of the well is said to have risen miraculously to the level of the ground, bringing the child with it, alive and well. Hereupon the parents made a vow of continence and lived in separate houses. Forty years after Isidore's death, his body was transferred from the cemetery to the church of St. Andrew. He is said to have appeared to Alfonso of Castile, and to have shown him the hidden path by which he surprised the Moors and gained the victory of Las Nevas de Tolosa, in 1212. When King Philip III of Spain was cured of a deadly disease by touching the relics of the saint, the king replaced the old reliquary by a costly silver one. He was canonized by Gregory XV, along with Sts. Ignatius, Francis Xavier, Teresa, and Philip Neri, on 12 March, 1622. St. Isidore is widely venerated as the patron of peasants and day-laborers. The cities of Madrid, Leon, Saragossa, and Seville also, honor him as their patron.

St. Nicholas of Flüe
Hermit
Patron of Switzerland and councilmen
Nicholas was born on March 21, 1417 and died on the same day 70 years later in 1487. He was from the canton of Unterwalden in Switzerland. His parents were simple peasants who tried to provide Nicholas with a better education, given his uncommon intelligence and piety. He had an inclination for the contemplative life and practiced severe mortifications. He married and had ten children, some of whom came to hold high positions in the country. He used to wake every night to pray and read a psalter in honor of Our Lady.
At age 23 he was called to take arms in a campaign against the canton of Zurich, which rebelled against the Swiss Confederation. Fourteen years later he was still engaged in military service and had achieved the post of captain, having 100 men under his command. In battles Nicolas always fought with the sword in one hand and the rosary in the other. His courage earned him the highest military decorations.

Returning home, he was asked to be mayor of his city, but declined the honor, alleging his humble origin made him unsuitable for that post. However, he accepted the position of judge in the local court, a position that he carried out with rare ability for nine years. Then he retired from this position to his farm to have more time to dedicate himself to matters of the soul.

He had received symbolic visions since childhood. After his retirement, he was watching his flock when he mystically saw a marvelous lily growing from his mouth and rising up to the clouds; suddenly it fell to the ground and was eaten by a horse. He understood that his contemplation of heavenly things was often disturbed and consumed by earthly concerns. He realized he should abandon the world and devote himself exclusively to matters of soul as a hermit.
Although she had just borne his tenth child, his wife heroically consented. He settled at Ranft, a few miles from his home. From the outset of his life as a hermit, he was miraculously nourished only by the Holy Eucharist, which he received once a month.
He was loved and venerated by the people, and pilgrims came from distant parts to consult him. He was often called on by dignitaries to make peace between the cantons in their continuous disputes. He always achieved success in those missions.

Shortly before his death he was assailed by strong pains. "O, how terrible is death!" he used to say. But he delivered his last breath in peace. His body was preserved in the Church of Sachseln, a village close to his birthplace.
Even today the visitor can venerate there the bones of Brother Klaus (Nicholas in German), his mortal remains richly ornamented with gold and precious stones, and around his neck countless military decorations of honor.
(Note: After Vatican II, the richly adorned reliquary, which also served as an altarplace, was replaced with a table and simple modern contemporary tomb without the jewels or military decorations.)