Post by Elizabeth on Apr 24, 2019 15:38:37 GMT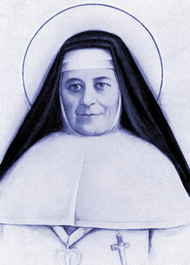 Saint Mary Euphrasia Pelletier
Foundress
(1796-1868)

On May 2, 1940, Pope Pius XII raised to the ultimate honors of the altar a most remarkable woman, Mother Mary Euphrasia Pelletier. As the solemn Te Deum swelled in gladness through the Vatican Basilica, its joyous strains were echoed and reechoed in quiet chapels found in virtually all the large cities of the world. Almost a hundred thousand women and girls and over ten thousand white-robed Sisters, in three hundred and fifty homes of charity, rejoiced with their Mother, the new Saint. For Saint Mary Euphrasia Pelletier is the Foundress and first General Superior of the large Congregation of Our Lady of Charity of the Good Shepherd of Angers, and one of the great sociologists of the ages.
Rose Virginia Pelletier was born of pious parents on July 31, 1796 on the island of Noirmoutiers, during the terrible period of the French Revolution. So it was that her life began as a daughter of the suffering faith of her beloved France. Because of the suppression and expulsion of religious Orders, the education of the little girl had to be undertaken by her busy mother. At her knees Rose Virginia learned of God and His service.
In 1814 she entered the Order of Our Lady of Charity of the Refuge at Tours. After ten months as a postulant in this historic community at Tours, Rose Virginia received the habit and entered upon her life as a novice in September, 1815. For two years she remained in the novitiate, being formed to the religious life, studying and absorbing the history and work of her Order. Listening to the life of a Saint one day, she heard that he quickly attained sanctity by his perfect obedience. Obedience, then, reflected the young novice, must be the best means to become holy. If only I might take the vow of obedience at once! Sister Mary Euphrasia consulted her superiors, and was permitted to take a private vow of obedience. In 1817 she was professed, making then her first public vows.
In a few years her exceptional qualifications became so apparent to all that after having been Mistress of penitents, she was elected Superior of the house. A project which had been in her mind for a long time was then made a reality. She had found in many of the penitents a real attraction for the religious life, with no desire to return to the world after their conversion. Where could they go? It was very difficult, virtually impossible, to find a congregation suitable for them or willing to accept them. So Mother Euphrasia inaugurated a community called the Magdalene Sisters. She adapted the rule of Saint Teresa, drew up a set of Constitutions, and erected the first community of Magdalenes in the house at Tours. One of the greatest consolations Mother Euphrasia enjoyed in life was the sanctity attained by so many of these religious, bound by vows to a life of prayer and penance.
During the thirty years she was Superior General, Mother Euphrasia sent out her Sisters from their mother house at Angers to found one hundred and ten houses in every land beneath the sun — Sisters inflamed with her own zeal, trained at her hands. She died at Angers in her seventy-second year, having welcomed death with the faith and serenity which marked her entire life.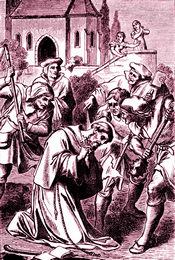 Saint Fidelis of Sigmaringen
Martyr
(1577-1622)

Saint Fidelis was born of noble parents at Sigmaringen in what is now Prussia, in 1577. In his youth he frequently approached the Sacraments, visited the sick and the poor, and spent many hours before the altar. For a time he followed the legal profession and was remarkable for his advocacy of the poor and his respectful language towards his opponents.
Finding it difficult to be both a rich lawyer and a good Christian, Fidelis entered the Capuchin Order and embraced a life of austerity and prayer. Hair shirts, iron-pointed girdles, and disciplines were penances too light for his fervor. At Weltkirchen, where he was Superior of the convent during an outbreak of the plague, he devoted himself indefatigably to the care of the sick soldiers and citizens. Animated by a desire for martyrdom, he rejoiced at being sent with several fellow Capuchins on a mission to Switzerland, which the newly-founded Congregation of the Propaganda named him to preside. There he braved every peril to rescue souls from the errors of Calvin.
When preaching one day at Sevis he was fired at by a Calvinist, but fear of death could not deter him from proclaiming divine truth. After his sermon, when leaving the city he was waylaid by a body of his enemies, who attacked him and tried to force him to embrace their so-called reform. But he said, I came to refute your errors, not to embrace them; I will never renounce Catholic doctrine, which is the truth of all ages, and I fear not death. On this they fell upon him with their daggers; and the first martyr of the Propaganda, losing his life for Christ, went to find in heaven the veritable life his Master promised to all who are losers for His sake.