Post by Elizabeth on May 27, 2019 15:30:26 GMT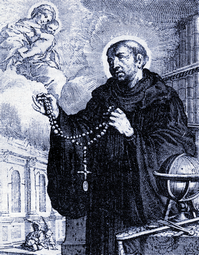 Saint Bede the Venerable
Father and Doctor of the Church
(673-735)

Saint Bede, the illustrious ornament of the Anglo-Saxon Church and its first English historian, was consecrated to God in 680 at the age of seven, and entrusted to the care of Saint Benedict Biscop at Weremouth. He became a monk in the sister-house of Jarrow, which he would never leave, and there he trained no fewer than six hundred scholars, whom his piety, learning, and sweet disposition had gathered around him.
He was ordained a priest in 702. To the toils of teaching and the exact observance of his Rule he added long hours of private prayer, with the study of every branch of science and literature then known. He was familiar with Latin, Greek, and Hebrew. In a treatise which he compiled for his scholars, still extant, he assembled all that the world had then conserved of history, chronology, physics, music, philosophy, poetry, arithmetic, and medicine. In his Ecclesiastical History he has left us beautiful lives of Anglo-Saxon Saints and holy Fathers, while his commentaries on the Sacred Scriptures are still in use by the Church.
It was to the study of the Divine Word that he devoted the whole energy of his soul, and at times his compunction was so overpowering that his voice would break with weeping, while the tears of his scholars mingled with his own. Once he was accused of heresy by certain jealous ones, but this scholar who had always made a great effort not to depart from tradition, wrote a letter which vindicated him and stopped the bad reports. He had little aid from others, and during his later years suffered from constant illness; yet he worked and prayed up to his last hour. It has been said of him that it is easier to admire him in thought than to do him justice in expression.
The Saint was employed in translating the Gospel of Saint John from the Greek, even to the hour of his death, which took place on the eve of the Ascension in the year 735. He spent that day joyfully, writes one of his scholars. In the middle of the afternoon he said: It is time that I return to the One who gave me being, creating me out of nothing... The moment of my liberty is approaching; I desire to be freed from the bonds of the body and to join Jesus Christ. Yes, my soul longs to see Jesus Christ its king, in the splendor of His glory. In the evening a scribe attending him said, Dear master, there is yet one chapter unwritten; would you be disturbed if we asked you additional questions? He answered, No; take your pen, and write quickly, which the disciple did. He prayed then until his last breath.