Post by Elizabeth on Jun 9, 2019 17:49:57 GMT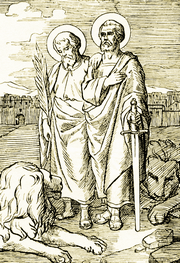 Saints Primus and Felicianus
Martyrs
(† 286)

These two martyrs were brothers who lived in Rome, heirs of a family of great wealth, toward the latter part of the third century. It was through the assiduous love of Pope Felix I that they had the happiness, in their mature years, of being converted to the Christian faith; afterwards they encouraged each other for many years in the practice of all good works. They seemed to possess nothing but for the poor, and often, during the persecutions, they spent both nights and days with the confessors in their dungeons, or at the places of their torments and execution. Some they exhorted to persevere; others who had fallen, they raised again. They made themselves the servants of all in Christ, that all might attain to salvation through Him.
Though their zeal was very remarkable, they had escaped the dangers of many bloody persecutions; they had grown old in the heroic exercises of their virtue, when it pleased God to crown their labors with a glorious martyrdom. Primus was about 90 years old, when the pagans raised so great an outcry against the brothers that they were apprehended and put in chains. They were inhumanly scourged and tortured, and then sent to a town twelve miles from Rome to be chastised again, as avowed enemies to the gods, by a prefect who detested the Christians. There they were cruelly tortured to make them renounce their faith, both together and then separately, but the grace of God strengthened each of them. Felicianus was nailed by his hands and feet to a post and left without food or water for three days; Primus was beaten with clubs and burnt with torches. God spared them amidst these tortures, and wild beasts in an arena imitated their God's mercy. Finally, they were beheaded on June 9, 286.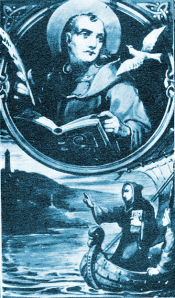 Saint Columba or Columkille
Abbot
(521-597)

Saint Columba, the apostle of the Picts of Scotland, was born of a noble family in the county of Tyrconnel in Ireland, in 521. He studied Holy Scripture under the saintly bishop Finian, and when ordained a priest in 546 he opened a school where he formed several disciples. He founded several monasteries in Ireland. He is sometimes called Columkille, which is Old Irish for Founder of cells. Though austere, he was not morose; and, although he often longed to die, he was untiring in good works throughout his life.
His zeal in preaching against public vices offended King Dermot, and the Saint decided to leave his domains, departing for Scotland with a dozen of his disciples. He arrived there in 565, according to Saint Bede. There he founded a hundred religious houses and converted the Picts of the north, who in gratitude gave him the island of Iona, a short distance from the mainland. On that island Saint Columba founded his celebrated large monastery of Hy (or Y Colm-Kille), a school for apostolic missionaries and martyrs, and for centuries the last resting place of a multitude of Saints and of the kings of Scotland. Later its monks adopted the Rule of Saint Benedict.
The gentleness and charity of Saint Columba, which were unfailing, won the hearts of all with whom he conversed. His virtues, to which God added the gifts of prophecy and miracles, attracted for him universal veneration. The kings did nothing without consulting him; King Edhan in 570 wished to receive the royal ornaments from his hand.
Four years before his death, our Saint had a vision of Angels, who told him that the day of his death had been deferred four years, in answer to the prayers of his spiritual children. Thereupon the Saint wept bitterly, for he desired above all things to reach his true home. He was seventy-six years old, and surrounded in choir by his disciples, when finally the day of his peaceful death came. It was the 9th of June, 597, when he said to his disciple Diermit, This day is called the Sabbath, that is, the day of rest, and such will it truly be to me; for it will put an end to my labors. Then, kneeling before the altar, he received the Viaticum, and sweetly slept in the Lord. His relics were later carried to Down and laid in the same shrine with those of Saint Patrick and Saint Bridget.