Post by Elizabeth on Jun 28, 2019 2:12:21 GMT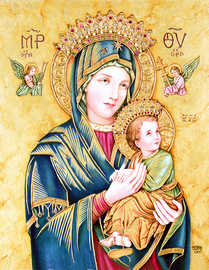 Our Lady of Perpetual Help
(1863)

The image of Our Lady of Perpetual Help measures around 50 centimeters (25 inches) high. It is in the Byzantine style, painted on wood with a gold leaf background. The Virgin is there with Her divine Child; each of them has a golden halo. Two Angels, one on the right and the other on the left, present the instruments of the Passion to the Child Jesus who is frightened, whereas the Blessed Virgin looks at the pathetic scene with calm, resigned sorrow.
The image of Our Lady of Perpetual Help had long been venerated on the Isle of Crete. The inhabitants of that island, fleeing a Turkish invasion, took it with them to Rome. By the invocation of Mary under the title of Our Lady of Perpetual Help, the ship transporting Her holy image was saved from a terrible storm.
On March 27, 1499, the portrait of the Virgin of Perpetual Help was carried in triumph through the streets of Rome. Preceded by the clergy and followed by the people, it was placed over the main altar of St. Matthew's church, near St. Mary Major. Thanks to the care of the Augustinian friars, the holy image became the object of a very popular devotion which God rewarded for several centuries with many miracles.
During the disturbances of the French Revolution (1789-1793), the French troops occupying Rome destroyed St. Matthew's church. One of the friars serving in that sanctuary had the time to secretly remove the miraculous Madonna. He hid it so well that for sixty years, no one knew what had become of the famous painting.
God permitted a concourse of providential circumstances which led to rediscovery of the venerated image. In 1865, in order to return the holy picture to the same spot it had been prayed to before, Pius IX gave orders to have it taken to the Esquiline Hill, in St. Alphonsus Liguori's church, built on the site of old St. Matthew's. On April 26, 1866, the Redemptorists solemnly enthroned Our Lady of Perpetual Help in their chapel.
From that time on, thanks to the zeal of the sons of Saint Alphonsus and the countless miracles obtained in their pious sanctuary, devotion to Our Lady of Perpetual Help has had an extraordinary development. To acknowledge and perpetuate the remembrances of these precious favors, the Vatican Chapter crowned the holy image in great pomp on June 23, 1867.
In 1876, Pope Pius IX erected an Archconfraternity in St. Alphonsus' church under the title of Our Lady of Perpetual Help. Today the Blessed Virgin is invoked by this name throughout the Western Church.