Post by Admin on Sept 25, 2019 12:16:29 GMT
The "Great Replacement" is only a conspiracy theory, except when it is celebrated
[Interesting commentary from a Novus Ordo blog.]
In a recent interview Cardinal Sarah he equated contemporary mass migrations with a new form of slavery.

"It is a false exegesis to use the Word of God to value migration […]. God has never wanted these uprooting [...]. This current will to globalize the world by suppressing nations, the specificities, is total madness. "
The words of the cardinal, born in Guinea-Conakri in West Africa, are especially courageous since dignitaries of the Church, including Pope Francis, have spoken in favor of mass immigration to Europe citing passages from the Gospel and implying that whoever opposes He is a good Christian, or worse.

Sarah knows well that these contemporary migrations do not benefit emigrants, much less the countries that receive them.
"All immigrants arriving in Europe are overcrowded, have no job, no dignity […]. If the West continues along this dire road, there is a great risk that, due to the lack of birth, it will disappear, invaded by foreigners […]. I speak as an African. My country is mostly Muslim, I think I know what reality I am talking about. "
Beyond the current decline, Europe has a special past and even a role to play:

"God does not change his mind [...]. God has given a mission to Europe, which welcomed Christianity. And European missionaries have proclaimed Christ to the ends of the earth. And it was no accident, it was God's plan. This universal mission that He gave to Europe when Peter and Paul came to settle in Rome, from which the Church has evangelized Europe and the world, is not over."
What are the consequences and
cui bono
? Who benefits from this?
"But if we set a deadline plunging into materialism, forgetting God and apostasy, then the consequences will be serious. If Europe disappears, and with it the invaluable values ​​of the old continent, Islam will invade the world and our culture."
It could be seen that in addition to Islam, those who benefit are globalist and anti-Christian interests in general, or at least that is what they want, and have long desired.
Cardinal Sarah is not the only foreign religious to make "controversial" statements on the subject. In recent months, the Dalai Lama has raised the pressure on left-handed and liberals by affirming and ratifying that "Europe belongs to Europeans" and that refugees must return to their countries of origin to rebuild them. Europe for Europeans! What madness, only a Nazi, "racist" or "white supremacist" could express itself this way.

Cardinal Sarah and the Dalai Lama oppose the Great Replacement. Finally an ecumenism that works. Photo: Daniel Ibáñez / ACI Prensa and TT News Agency / Johan Nilsson via REUTERS.

Le Grand Remplacement
The
Great Replacement
is the gradual and orchestrated genocide of European and Christian peoples is their ancestral lands through African, Asian and Muslim immigrants.
The foundations of the Great Replacement were developed by the so-called
Frankfurt school
in the 1930s. Today after a long march on institutions, often violent [1] , his disciples have taken over the mainstream media and universities, and come down incessantly line. They use the fallacy of matching love for people with "hatred" for the rest . But this is required only for European Christian nations, showing that it is but a dishonest tactic of domination.
Curiously, it was
Renaud Camus
, a left-wing homosexual, who coined the concept of "
Le Grand Remplacement
" surely when observing the events in his native France, or perhaps inspired by the prophetic novel "
Le Camp des Saints
" by his compatriot Jean Raspail. His definition of the Great Replacement is simple "There is a group of people, and in the course of a generation there ends up being a different group of people."
The Great Replacement is labeled "conspiracy theory" by well-thought liberals. Those who live protected in their closed neighborhoods and see immigrants only on TV, or are themselves immigrants with conflicts of interest. Let's look at some beads from that bastion of globalizing liberal democracy that is The New York Times.

" The 'great replacement' is a conspiracy theory that warns of white genocide." Lauretta Charlton, What is the great replacement? (The New York Times. 6 / Aug / 2019).
"'The Great Replacement' is a racist and misogynist conspiracy theory that argues that whites are facing an existential decline, even extinction, due to increased immigration in the West." Farhad Manjoo, The White-Extinction Conspiracy Theory Is Bonkers (The New York Times. 20 / Mar / 2019).
Squared hypocrisy
Well, actually when the Great Replacement is not denied, it is celebrated, even by the same means that deny it. Intellectual honesty was never his strong point.
The New York Times
again , but this time applauding the replacement:
"… They are a bitter white conservative minority […] terrified to be flooded by a new multiracial polyglot majority […]. Show them that they are being replaced " (Michelle Goldberg, We can replace them . The New York Times Op. Editorial. 29 / Oct / 2018).
The
New York Times
editorialists cannot decide even if the Great Replacement is a conspiracy theory, or is it real and must be celebrated.
Beyond the big media and its double standards, hatred of Christianity, Europe and its derivatives extends to a diverse spectrum of people. And when they expand they show the
hilacha
. For example:
"I think there is a resurgence of anti-Semitism because Europe has not yet learned how to be multicultural and I believe that we will be part of the launch of that transformation that must occur. Europe is not going to be that monolithic society that once was in the last century. The Jews will be at the center of all this. Europe will undertake a huge transformation. Now it is entering a multicultural mode and the Jews will be looked upon with resentment because of our leadership role " ( Barbara Lerner Specter ).
" The Jews should be glad that Christian Europe is losing its identity as a punishment for what they did to us for hundreds of years when we were exiled there ... And now Europe is losing its identity in front of other peoples and other religion, and there are no remains left nor survivors of the impurity of Christianity "( Rabbi Baruch Efrati ).
"The Messiah will come only when Edom, Europe, Christianity have fallen completely. So I ask you, is it good news that Islam is invading Europe? It's great news! It is an announcement of the coming of the Messiah. " (Rabbi David Touitou )
"… Islam will return to Europe again. Should this conquest be through war? No. It will be a peaceful conquest. " " With your democratic laws we will colonize them; with our Koranic laws we will submit them "( Yousouf al-Quaradawi , leader of the Muslim Brotherhood).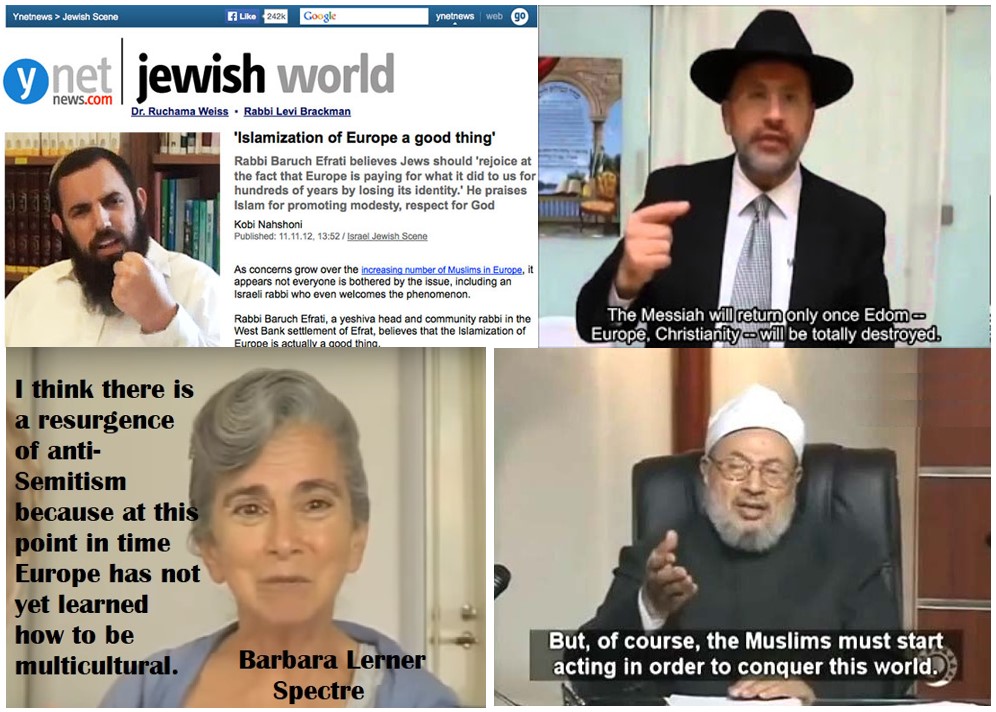 The former presidents of Algeria, Boumediene, and Libya, Gaddafi, issued similar warnings (expressions of desire) .
What will this diverse group of subjects have in common?
On the one hand, those who mention and oppose the replacement are branded as conspirators. On the other hand it is celebrated that the replacement is happening as something good, desirable and fair. They were? Who to believe? The arrogant liberals who deny the replacement, or the left-handed and other resentful people who celebrate it?
In vino veritas
, and in the names too: Mohamed occupies first place for the first time in the twenty most popular names in France. The Name of the Prophet was the first name given in England and Wales in 2015. Mohammed was the first male name of Oslo in 2014. In Berlin in 2018, the name most given to children was Mohammed. In the US things are not much better .

Et you , UN?
And what will the United Nations say to all this? Considering that the UN definitions of genocide include "deliberately inflicting on a group calculated living conditions in order to cause their total or partial physical destruction", they will surely oppose replacement as any genocide. Do not? Not precisely…
At the beginning of 2017, the Population Division of the Department of Economic and Social Affairs published a report entitled "
Replacement Migrations: A Solution to the Reduction and Aging of Populations?
". The term "replacement migrations" is used to define the level of international migration necessary in each country to avoid the decline and aging of the population that results from low fertility and mortality rates.
What a coincidence that all of Europe is in the sights of the UN to receive the dubious blessings of replacement migrations! The UN promotes the replacement of Europeans as a solution to their demographic problems.

but the original text can be seen on this
site
.

Action and reaction
This invasion has caused huge problems in European nations . Not only economic and cultural. In England, massive rapes of English girls by Muslim gangs in Rotherham , Rochdale and Telford occurred (and occur). Scandals that both the government and the English press have tried to cover, reaching up to imprisoned parents of raped girls accusing them of "racists."
These abuses have generated such rage among the native population, that the media have hidden or presented negatively when they were forced to report them. However, people have expressed themselves clearly at the polls . In Western Europe, the election of Salvini in Italy , Brexit , the high percentages that Le Pen receives in France,
Alternative for Germany
, the Democrats of Sweden and the
Forum for Democracy
in the Netherlands, among others. Not to mention in Eastern Europe where governments defending local culture and religion and contrary to moral degeneration and mass Muslim immigration have settled in Hungary, Poland and the Czech Republic. The triumphs of Trump and Bolsonaro are another manifestation of the same phenomenon in the Americas.
There have also been isolated but violent reactions from desperate people to the outrage and complicity they see within their own governments. The attacks in Norway (Utoya, 2011), and more recently in New Zealand (Christchurch) and the US (El Paso) come to the case [2] .
The Great Replacement is obfuscated by the media as people tend to get angry when they learn that they will become a minority in their own countries. These, for now isolated, violent reactions are perhaps an ominous vision of the future.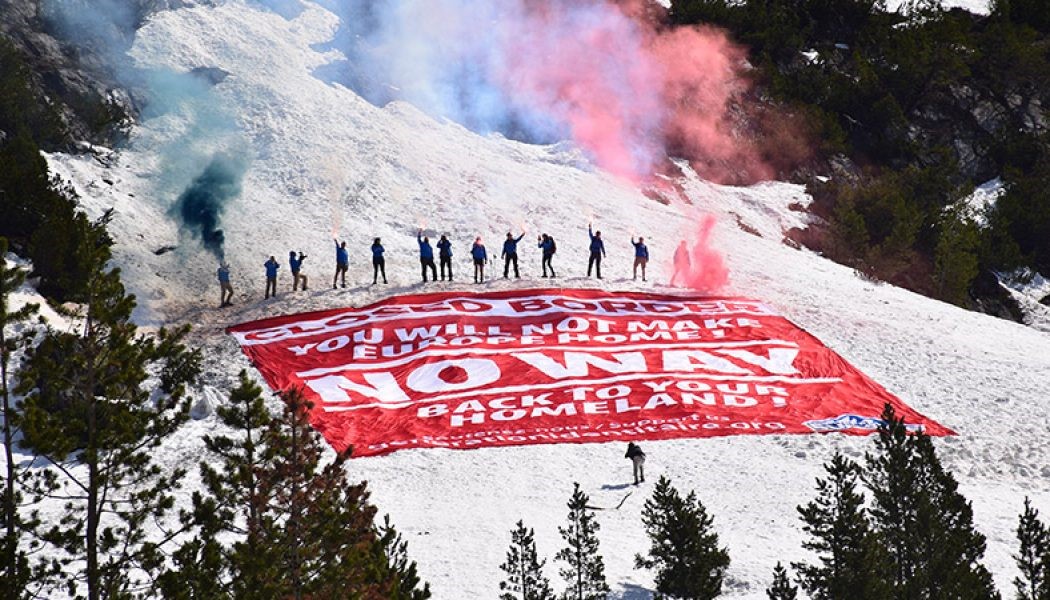 French young people peacefully demonstrate in opposition to France being replaced. But the state fines them and tries to put them in prison.
Source
The true wealth of the nations
The popular Hungarian leader, Viktor Orbán, who certainly fulfills the supreme role of the statesman in providing against preventable evils, is perfectly aware of the Great Replacement and has already put several mechanisms in place to preserve Hungary. In the recent international meeting on demography in Budapest (which the media hid or denigrated), which was attended by leaders of the region and delegations from many countries, Orbán said:
"If Europe is not going to be populated by Europeans in the future and we accept it as a fact, then we are talking about an exchange of populations, to replace the European population with others. There are political forces in Europe that want a replacement of the population for ideological or other reasons. " ( Viktor Orbán , Prime Minister of Hungary)
Hungary's response to the Great Replacement is a strong pro-family policy, the opposite of fostering mass immigration of incompatible and hostile people to the local culture and religion that anti-Christian elites are implementing in Western Europe. Birth in Hungary is already increasing thanks to the policies of his government. Other countries in Eastern Europe are on the same path, which infuriates abortionist anti-Christian globalists, who despite all their shame seem to hate well-understood diversity.
The reason why it is necessary to preserve the diversity and identity of each nation is reminded of the extraordinary Aleksandr Solzhenitsyn in his acceptance speech for the Nobel Prize for Literature in 1970:
"In recent times it has become fashionable to speak of the equalization of nations, of the disappearance of different races in the melting pot of contemporary civilization. I do not agree with this opinion, [...] the disappearance of nations would impoverish us as much as if all men became equal, with the same personality and the same face. Nations are the wealth of humanity , their collective personalities; the youngest of them wears her own special colors and carries within her a special facet of divine intention .. " ( Aleksandr Solzhenitsyn, Nobel Prize for Literature).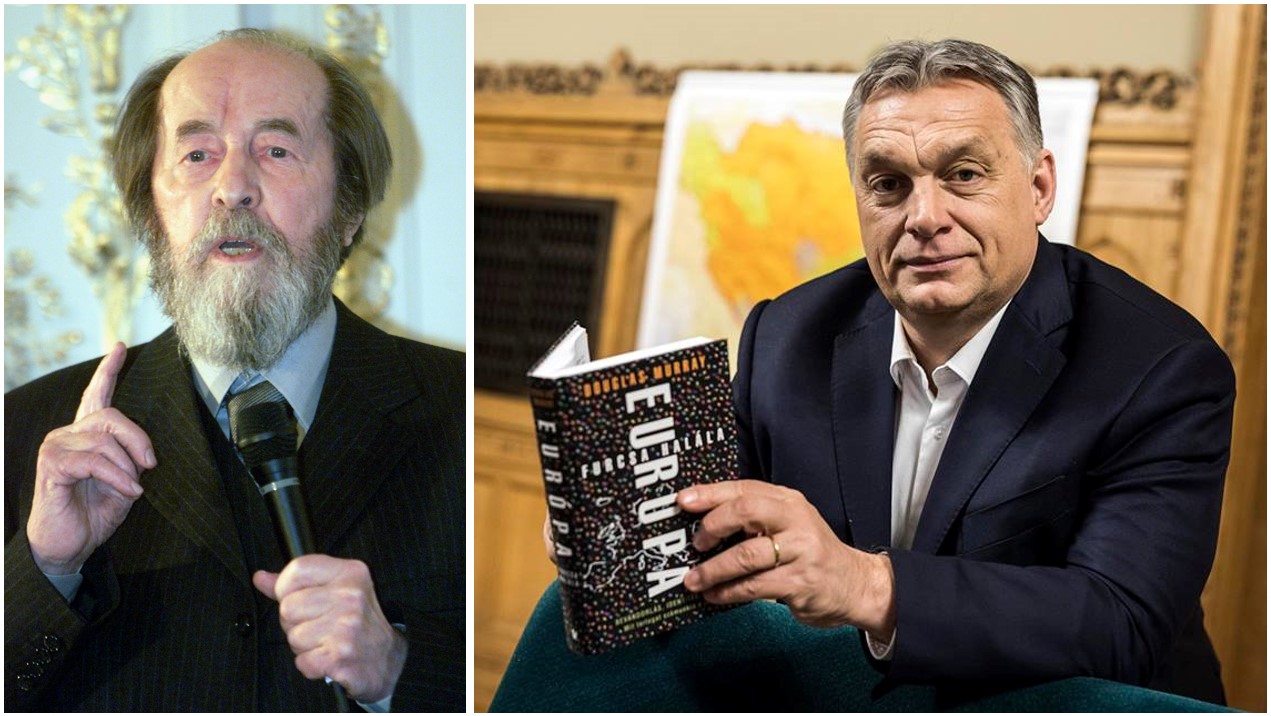 True statesmen, Solzhenitsyn and Orbán, who seems to have readings similar to QNTLC.

An inconvenient question (and racist)
But if certain countries such as Israel and Saudi Arabia can be defined by a very specific ethnic-religious majority, not at all "diverse", and boast about it, why can't European countries aspire to the same? Why are these countries, and only these , demanded to open their doors to mass immigration? Why have Saudi Arabia and the rich Gulf countries not received any Muslim immigrants from Syria and other countries in the region?
The much promoted "diversity" is a euphemism for the replacement and destruction of Europe. Opposing this forced "diversity" is cataloged as "hate language." But Cardinal Sarah is right: God does not change his mind ... and as Cardinal Burke recalls, a world government is neither fair nor legitimate, to the point that the Lord of the nations has always shown his disgust in the face of babble attempts to form a new world order.
It's just like that ... God opposes homogenizing globalization, so ... not to lose hope.
Don't be told ...
- Enrique de Zwart
9/5/2019
[1] The number of executed in France in the political-cultural purges after the second war is around 50 thousand. Today the so-called "antifa", groups of criminals financed by billionaires such as Soros, play a similar role intimidating and attacking anyone who opposes the globalizing interests of their financiers.
[2] The attacks on the right have so far been few. Apart from the multiple attacks by Muslim terrorists, there have also been several attacks by leftist extremists that are not brought to the forefront by the media. Recently, in Dayton, Ohio, that although it happened a few days after the attack in El Paso received much less attention, because the attacker, being a sympathizer of the Democratic party , had the "wrong" profile.