Post by Elizabeth on Nov 24, 2019 17:41:55 GMT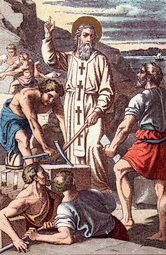 Saint Clement I of Rome
Pope and Martyr
(† 100)

Saint Clement is a Roman of noble birth, the son of the Senator Faustinian. Saint Paul speaks of him in his Epistle to the Philippians, chapter 4, assuring that Clement had worked with him in the ministry of the Gospel, and that his name was written in the Book of Life. Later Saint Clement was consecrated bishop by Saint Peter himself. He succeeded in the supreme office to Saint Linus, the immediate successor to Saint Peter, and the Liber Pontificalis says that he reigned nine years, two months and ten days, from 67 to 76, ...until the reign of Vespasian and Titus.
It was, we may say, with the words of the Apostles still resounding in his ears that he began to rule the Church of God; he was among the first, as he was among the most illustrious, in the long line of those who have held the place and power of Peter. Living at the same time and in the same city with Domitian, persecutor of the Church, and having to face not only external foes but to contend with schism and rebellion from within, his days were not tranquil. The Corinthian Church was torn by intestine strife, and its members were defying the authority of their clergy. It was then that Saint Clement intervened in the plenitude of his apostolic authority, and sent his famous Epistle to the Corinthians. He reminded them of the duties of charity, and above all of submission to the clergy. He did not speak in vain; peace and order were restored. Saint Clement had done his work on earth, and shortly after sealed with his blood the Faith which he had learned from Peter and taught to the nations.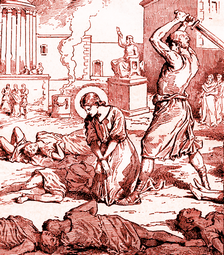 Saint Felicitas or Felicity
Mother of the 7 Holy Brothers

Martyr
(† 150)

Saint Felicity was a noble Roman matron, distinguished above all for her virtue. This mother of seven children raised her sons in the fear of the Lord, and after the death of her husband, served God in continence, concerning herself only with good works. Her good examples and those of her children brought a number of pagans to renounce their superstitions, and also encouraged the Christians to show themselves worthy of their vocation. The pagan priests, furious at seeing their gods abandoned, denounced her. She appeared with her pious sons before the prefect of Rome, who exhorted her to sacrifice to idols, but in reply heard a generous confession of faith.
Wretched woman, he said to her, how can you be so barbarous as to expose your children to torments and death? Have pity on these tender creatures, who are in the flower of their age and can aspire to the highest positions in the Empire! Felicity replied, My children will live eternally with Jesus Christ, if they are faithful; they will have only eternal torments to await, if they sacrifice to idols. Your apparent pity is but a cruel impiety. Then, turning to her children, she said: Look towards heaven, where Jesus Christ is waiting for you with His Saints! Be faithful in His love, and fight courageously for your souls.
The Judge, taking the children one by one, tried to overcome their constancy. He began with Januarius, but received for his answer: What you advise me to do is contrary to reason; Jesus, the Saviour, will preserve me, I hope, from such impiety. Felix, the second, was then brought in. When they urged him to sacrifice, he answered: There is only one God, and it is to Him that we must offer the sacrifice of our hearts. Use all artifices, every refinement of cruelty, you will not make us betray our faith! The other brothers, when questioned, answered with the same firmness. Martial, the youngest, who spoke last, said: All those who do not confess that Jesus Christ is the true God, will be cast into a fire which will never be extinguished.
When the interrogation was finished, the Saints underwent the penalty of the lash and then were taken to prison. Soon they completed their sacrifice in various ways: Januarius was beaten until he died by leather straps capped with lead; Felix and Philip were killed with bludgeons; Sylvanus was thrown headfirst from a cliff; Alexander, Vitalis and Martial were beheaded. Felicity, the mother of these new Maccabees, was the last to suffer martyrdom.