Post by Elizabeth on Feb 15, 2020 2:23:46 GMT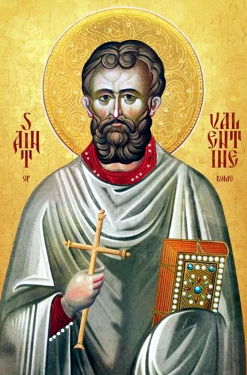 Saint Valentine
Priest and Martyr
(† 268)
Patron of greetings and lovers

Valentine was a holy priest in Rome, who assisted the martyrs during the persecution under Claudius II. His great virtue and influence became known, and he was apprehended and brought before the emperor's tribunal. Why, Valentine, do you want to be the friend of our enemies and reject our friendship? The Christian priest replied, My Lord, if you knew the gift of God, you would be happy, and your empire with you; you would reject the cult of your idols and would adore the true God and His Son Jesus Christ. One of the judges interrupted, asking the martyr what he thought of Jupiter and Mercury. That they were miserable, and spent all their lives in debauchery and crime! The judge, furious, cried, He has blasphemed against the gods and against the empire! The emperor nonetheless continued his questioning with curiosity, pleased to have this opportunity to know what Christians thought. Valentine had the courage to exhort him to do penance for the blood of Christians which he had shed. Believe in Jesus Christ, be baptized and you will be saved, and already in this life you will insure your empire's glory and the triumph of your arms. Claudius began to be convinced, and said to those in attendance, Hear the beautiful doctrine this man is teaching us! But the prefect of Rome, dissatisfied, cried out, See how this Christian is seducing our prince! Claudius, weakening, abandoned the holy priest to another judge.
This man, named Asterius, had a little girl who had been blind for two years. Hearing of Jesus Christ, the Light of the world, he asked Valentine if he could convey that light to his child. Saint Valentine placed his hand on her eyes and prayed: Lord Jesus Christ, true Light, illuminate this blind child! The child saw, and the Judge with all his family confessed Christ and received Baptism. The emperor, hearing of this, would have turned his gaze away from these conversions, but fear caused him to betray his sense of justice. With several other Christians Saint Valentine was tortured and martyred in the year 268.
This illustrious martyr has always been held in great honor in Rome, where there still exists a catacomb named for him.